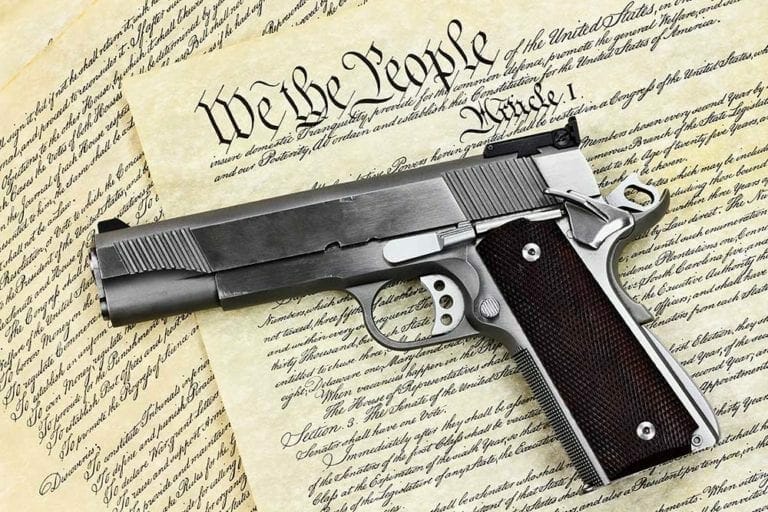 Washington, DC –-(Ammoland.com)- Did you know that one of the most important elections for gun owners this year is just a little more than one month away?
It's happening in Georgia, where Gun Owners of America Political Victory Fund is supporting Dr. Paul Broun for reelection to Congress in the state's 10th District.
Rep. Brown has received the highest grade possible from GOA — an A+ rating for his solid pro-gun record and commitment to defending the Second Amendment.
"I am an avid hunter and outdoorsman," Broun says, "and I strongly support the Constitution's Second Amendment right to bear arms and will defend the rights of law abiding citizens to purchase, use, and keep firearms.

"I vigorously oppose all attempts to restrict the Second Amendment [and] believe that any law – whether at the local, state, or federal level – which restricts or infringes upon law abiding citizens' ability to own a firearm is unconstitutional and should be repealed," Broun said.
A lot of politicians will say they support the Second Amendment, but then they begin stabbing gun owners in the back as soon as they arrive in our nation's capital. But not Paul Broun. He not only has been a reliable vote, but he is also the leader in the House of Representatives when it comes to defending our rights.
Take the National Parks gun ban. Broun took charge in the House of Representatives when he introduced legislation to repeal that law — a ban which Congress finally voted to overturn in 2009.
And during this current Congress, Rep. Broun is the chief sponsor of a reciprocity bill that recognizes the right of Americans to carry their firearms concealed when they travel out of state. Broun's bill treats concealed carry as a right belonging to the people — not a privilege granted by the government — and it would allow many gun owners to carry firearms without first being registered like sex offenders.
This is the type of leadership that we have come to expect from Paul Broun, who is also the head of the Second Amendment Task Force in Congress. As its director, Broun uses his platform to advance pro-gun legislation and rally opposition against gun control.
Rep. Broun is an outspoken critic of the notoriously anti-gun Attorney General Eric Holder, who oversaw a program that funneled thousands of illegal guns into Mexico — all in an attempt to justify the supposed "need" for more gun control.
Broun was one of the first congressmen to call for Holder to resign.
In short, Paul Broun is a leader and a trusted friend, and we need to make sure that he gets reelected this year. And that is why your help is needed. Rep. Broun is in a tough fight to win the Republican nomination on Tuesday, July 31.
Gun Owners of America Political Victory Fund is proud to support Broun and we urge gun owners across the country to get behind this campaign with your financial and volunteer support. Click here to make an immediate contribution.
Rep. Broun stands up for gun owners every day on Capitol Hill, and now we must stand with him. Please do what you can to help. Forward this message to your friends, post it on Facebook, and consider a donation to help Paul Broun spread his pro-gun, pro-freedom message to hundreds of thousands of voters right up to Election Day.
Thank you so much for doing your part to help get this Second Amendment champion reelected to Congress.
Sincerely, Tim Macy
Vice Chairman
PS – The primary election in Georgia is a little over one month away. Please spread the word about Rep. Broun's campaign, and also consider a financial contribution so he can finish the race strong.
---
About:
Gun Owners of America (GOA) is a non-profit lobbying organization formed in 1975 to preserve and defend the Second Amendment rights of gun owners. GOA sees firearms ownership as a freedom issue. `The only no comprise gun lobby in Washington' – Ron Paul
Paid for by Gun Owners of America Political Victory Fund. Not authorized by any candidate or candidate's committee.
Gun Owners of America
8001 Forbes Place, Suite 102
Springfield, VA 22151
Phone: 703-321-8585
FAX: 703-321-8408
www.gunowners.org