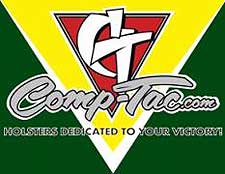 HOUSTON, Texas –-(Ammoland.com)- Comp-Tac Victory Gear, a leading manufacturer of holsters and related equipment, will sponsor a Zombie Match and Family Fun Night at The Sportsman's Outletin Humble, Texas on Monday October 29th 2012.
"The Comp-Tac Zombie Match and Family Fun Night is our way of giving back to the local shooting community here in Houston. The evening's program is all about supporting our friends at The Sportsman's Outlet, and joining with local competitors and their families for the fun and excitement of the Zombie Movement," explained Comp-Tac owner and president Gregg Garrett.
Houston-area shooters and their families are invited to The Sportsman's Outlet, conveniently located at 1710 FM 1960 Bypass East Humble, Texas, just northeast of Houston with easy access from Highway 59 and FM 1960. For more information please visit www.TheSportsmans-Outlet.com.
The Zombie Match and Family Fun Night festivities being at 6:30pm and conclude at 9:00pm. Events include:
Four stage Zombie inspired IDPA pistol match for shooters on the two indoor ranges. The match will be run by Team Comp-Tac Shooter Gordon Carrell and is limited to the the first 50 participants. The match fee is just $20 and all match participants will get a Comp-Tac "Trick or Treat Bag" with Comp-Tac Clearance items, gear, apparel or other goodies.
Guns and Gear Showcase in The Sportsman's Outlet showroom, featuring a full selection of handguns, long guns and accessories, including a full line-up of Comp-Tac holsters. The Sportsman's Outlet staff and Comp-Tac representatives will be on hand to answer any questions.
Basic Firearms Safety & Familiarity Class with Team Comp-Tac and World Champion Shooter Randi Rogers will be held in the classroom for any new shooters, or family members of shooters, interested in a basic introduction to firearms. Randi will cover the four basic rules of firearm safety, firearms manipulation and loading, as well as grip and shooting stance. The class is free but limited to 20 participants due to classroom size.
All match participants and class attendees must pre-register by contacting Cathey Osborne at Comp-Tac Victory Gear at 281-209-3040, or by email at [email protected]
For more information on Team Comp-Tac, and the full line of Comp-Tac Victory Gear holsters and accessories, visit www.Comp-Tac.com, like Comp-Tac on Facebook at www.facebook.com/CompTac, or follow @CompTac on Twitter.