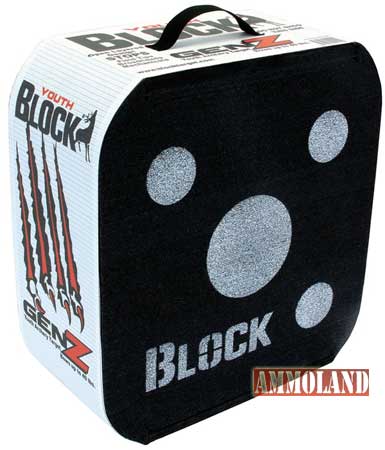 SUPERIOR, Wisc. –-(Ammoland.com)- It didn't matter if you were racing down a trail on your bike, doing tricks on your skateboard or cruising the streets with your roller blades, Generation X knew that it was all about being outside and getting it done.
Now with youngsters of their own, GenXers are working hard to help their Generation Z kids blaze their own trails in the great outdoors. Recognizing this passion, the makers of The BLOCK are proud to introduce The BLOCK GenZ Youth Archery Target.
Sleek, stylish and lightweight, The BLOCK GenZ was designed specifically with the young archer in mind. With its open-layered technology, The BLOCK GenZ offers easy extraction of arrows since it is intended for bows of 40 pounds of draw weight or less. This provides for longer target life, no matter what kind of arrow tip the GenZ shooter is using—field tips, fixed-blade broadheads or mechanicals.
High-contrast white-on-black aiming points offer great visibility, so your child can move up from the larger aiming points to the smaller spots for a greater degree of difficulty and superior accuracy.
The BLOCK GenZ target is just as tough as the rest of The BLOCK family, but your young Generation Z shooter can dial in his or her archery accuracy with this two-sided 18X16X7.5-inch target—and it only tips the scales at six pounds. With a suggested retail price of $39.99, The BLOCK GenZ is sure to be as big of a hit with GenX as it will be with GenZ.
Headquartered in Superior, WI, Field Logic is the manufacturer of the award-winning BLOCK Classic, BLOCK BLACK and the BLOCK BLACK Crossbow targets. It also manufactures GlenDel 3D targets. For additional information on Block Targets, you can write to: Block Targets, 101 Main Street, Superior, WI 54880; call 800-282-4868; or visit the company websites at www.blocktarget.com or www.fieldlogic.com. Be sure to like Block Targets on Facebook at https://www.facebook.com/blocktarget.