New, ATN, Featuring Made in the U.S.A. State-of-the-Art, Thermal Sensory Technology.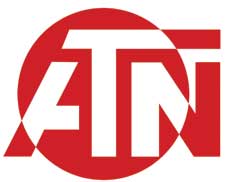 South San Francisco, CA –-(Ammoland.com)- American Technologies Network Corp., makers of military, law enforcement, security and outdoor night vision and thermal applications, introduce the THOR Thermal Weapons Sight System.
The new THOR thermal weapons sight series have been designed to meet the needs of individuals to aid in ground-based night operations at an affordable price. The THOR is a multi-purpose system using the latest in miniature thermal sensor technology combined with the new OLED display providing a superior stable image in the smallest package available on the market today.
Three new THOR Thermal Weapon Sights are available to fit the mission and the weapon: the THOR 100 mm (Heavy), the THOR 30mm (Light) and the THOR 50mm (Medium). The THOR Heavy offers basic sighting features such as a digital retical with 5 colors and 5 patterns and windage and elevation adjustability.
The THOR Light is designed for small caliber weapons such as the M4/M16. The THOR Light Has a 30mm lens with a 15-degree field-of-view that allows for 2x magnifications and up to 8x digital magnification. The very compact THOR weighs just 25 ounces and is 6.75 inches long by 2.90 inches high and 2.75 inches wide.
The THOR Medium is designed for larger caliber weapons such as the 7.62 and .308. This slightly larger but still compact sight has a 50mm lens with a 10-degree field-of-view that provides 3 x magnifications and Up to 12x digital magnification.
The THOR Heavy is a rugged sight with a highly accurate FLIR sensor behind a 100mm high precision lens. Built for the use and abuse from light to medium machine guns and large caliber sniper rifles, the THOR Heavy offers a 5 degree field of view that has a 6x optical magnification and up to 24x digital magnification available.
All of the THOR Basic Kits include an ARMS #17 Weapon Base, eyecup ring, shuttered eyeguard, type 123 battery module, 3-each batteries, objective lens cap, lens tissue, demist shield and operator manual with the THOR thermal weapon sight of choice in a hard, portable storage case. MSRP ranges from $5,699.00 to $11,199.00 for the 640×480 resolution models.
For more information on American Technologies Network Corp, visit www.atncorp.com. Visit Facebook to stay up to date on new products, images and promotions.