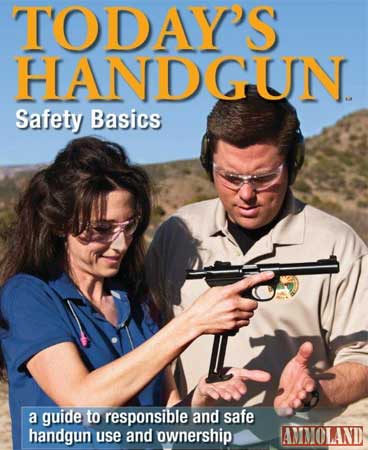 DALLAS –-(Ammoland.com)-A new e-book, Today's Handgun Safety Basics, will help the hundreds of thousands of new firearms owners learn about handgun safety and how to improve their shooting.
This handgun safety e-book features easy-to-understand language and realistic illustrations and is available for download at Amazon ( http://tiny.cc/8nknqw ) , Barnes and Noble ( http://tiny.cc/qrknqw ) and the Apple Store ( http://tiny.cc/0sknqw ).
"With so many people buying a handgun for the first time, we felt it was important they have access to basic information about how to safely use and enjoy handguns," said Kurt Kalkomey, president of Kalkomey Enterprises, Inc.

"This book is ideal for new shooters whether they've bought a handgun for self protection or to use it for hunting, plinking or target shooting."
Today's Handgun Safety Basics e-book covers the following topics:
The difference between revolvers and pistols
Matching ammunition to the handgun
Handgun safety mechanisms
How to safely clean, store and transport handguns
How to load and unload handguns
Basic shooting techniques
"Whether or not your state requires safety training, all handgun owners have a responsibility to learn about safe firearms handling," Kalkomey said. "Handgun education can prevent accidents and save lives."
Today's Handgun Safety Basics is an excellent resource for handgun owners and those planning to purchase a handgun or take a class for a concealed-carry permit or license.
About Kalkomey
Kalkomey, parent company of hunter-ed.com, is the official provider of recreational safety education materials for all 50 states. Our print and Internet courses have been providing official safety certification since 1995. We provide safety courses in boating, hunting, bowhunting, and off-road vehicle (ORV) and snowmobile operation. For more information, visit www.kalkomey.com.