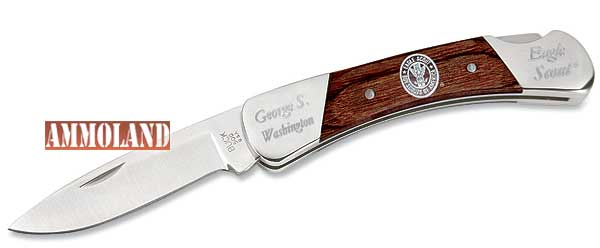 Post Falls, ID –-(Ammoland.com)- What tool is more essential to an Eagle Scout than a knife?
Buck Knives is pleased to announce a new product licensing partnership with the Boy Scouts of America (BSA), in which an American made pocket knife model will serve as an officially licensed product for Eagle Scouts, parents and other individuals associated with the BSA.
The 500 Duke, one of Buck Knives' more traditional pocket knives, is the current licensed knife and will be offered directly through Buck Knives. The Duke's nickel silver bolsters can be personalized with each Eagle Scout's name, troop number and Eagle date, along with the BSA logo.
"Boy Scouts and Eagle Scouts have been carrying our pocket knives for generations," said Chuck Buck, Chairman of Buck Knives. "Once upon a time, I was a Boy Scout and learned a lot from it. As for Buck Knives, tradition is extremely important to us. It only makes sense to partner with BSA and help create knives and memories that will last a lifetime."
The Duke will be Buck Knives' first licensed, commemorative knife for the BSA. "We hope to introduce several models to BSA through the years. This partnership will allow us to play an integral role in teaching knife use and safety to America's youth," said Buck.
The Duke can be ordered directly through Buck Knives. It is $50, which includes engraving and shipping.  For ordering information call (800) 326-2825, option 7, or send an email to [email protected]
About BSA
The Boy Scouts of America is one of the nation's largest and most prominent values-based youth development organizations. The BSA provides a program for young people that builds character, trains them in the responsibilities of participating citizenship, and develops personal fitness.
Eagle Scout is the highest rank attainable in the Boy Scouting program of the Boy Scouts of America (BSA). Since its introduction in 1911, the Eagle Scout rank has been earned by more than two million young men. The title of Eagle Scout is held for life, thus giving rise to the phrase "Once an Eagle, always an Eagle." Requirements include earning at least 21 merit badges and demonstrating Scout Spirit through the Boy Scout Oath and Law, service, and leadership.
BSA info taken from www.scouting.org