New Carlisle Sports and Outdoor Nationals Welcomes PA Muzzleloader Association.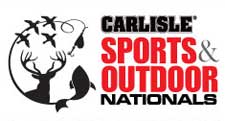 CARLISLE, PA –-(Ammoland.com)- The Pennsylvania Federation of Muzzleloaders and Carlisle Events are pleased to announce that the 2013 PA State Knife and Tomahawk Championships will be held at the Carlisle PA Fairgrounds as part of the Carlisle Sports and Outdoor Nationals. September 6-8, 2013.
Watch experts take their best throws as they attempt to be crowned champion and advance to national competitions.
While the PA Muzzleloader Association will be holding its state championships onsite, that isn't all they are bringing to the event. In addition, show goers can expect to witness an historic hunting village from the late 18th to early 19th century and lectures on trekking and muzzleloading hunting. As part of the village, there will be demonstrators and craftsmen showing how to make PA longrifles, powder horns and period clothing. In addition, the group will even build a period-specific log cabin on the grounds.
According to Jack Giblin, representative of the PA Muzzleloader Association, having the activities onsite happened quickly and not long after the turn of the New Year.
"We approached Carlisle Events about moving our championships to the Carlisle Sports and Outdoor Nationals because we wanted to continue the tradition of holding these championships that started more than 35 years ago. Carlisle offered us the best venue to make that happen."
Not only will there be championships and historic showcases at Carlisle in September, the organization is also looking to gain new hunters to the sport of muzzleloading and introduce more enthusiasts to the history of 18th and early 19th century competitive knife and tomahawk throwing.
Multiple qualifying rounds will take place on Friday and Saturday with the championships on Sunday. Qualifying times are available at www.CarlisleSportsOutdoor.com. In addition, there will be a beginner's competition where amateur throwers vie for their very own tomahawk.
Additional seminars and demonstrations include fire starting with flint and a primitive archery shoot, again backed by the PA Federation of Muzzleloaders. To register for the championships or for more information on any of these activities, email Jack Giblin at [email protected] or call 717-574-6936.
About Carlisle Events: Carlisle Events is a partner or producer of 17 annual collector car, truck, motorcycle and outdoor-themed events. Events are held at the Carlisle PA Fairgrounds (Carlisle, PA), Bloomsburg Fairgrounds (Bloomsburg, PA), Allentown Fairgrounds (Allentown, PA), Auburn Auction Park (Auburn, IN) and Festival Park (Zephyrhills, FL). The season schedule hosts a sports and outdoors event, seven automotive swap meets of varying size, six auctions, as well as individual specialty shows featuring Corvettes, Fords, GMs, Chryslers, trucks, motorcycles, imports and kit cars and tuner and modern customs. Founded in 1974 by friends Bill Miller and Chip Miller, events hosted at Carlisle attract more than a half a million enthusiasts annually from all corners of the globe. More information is available via www.CarlisleEvents.com.