Rounds Deliver Long-Range Ballistic Performance for Competition Excellence.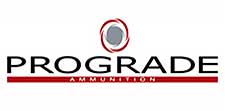 Stevensville, MT – -(Ammoland.com)- Shoot to win with ProGrade Match Grade ammunition, rounds that in every detail have been built to extraordinarily meticulous and consistent tolerances – the tightest tolerances in the industry.
Constructed to be superbly accurate for long-range applications, ProGrade Match Grade ammunition allows you to shoot the tightest groups possible giving you a competitive edge, and who's not looking for that?
The experts at ProGrade understand that you select your ammunition based on what you are going to be using it for. Because of this they have chosen rounds that are the "cream of the crop" for each shooting category. Competitive shooters have different needs than any other shooter, and ProGrade has chosen an elite selection of ammunition to serve their specific requirements.
ProGrade Match Grade rounds are all hand-loaded in the United States and use premium components that are held to higher standards of consistency, leaving little room for inaccuracy. Match grade means every element is made to be as uniform as possible in weight, primer pocket and neck size. This means everything – from bullet weight and powder weight to brass thickness and case length – is as precise as possible. It's this attention to detail that ensures shot-to-shot consistency and guarantees unmatched, superior performance.
Designed to deliver consistent excellence for those looking for a Match Grade round, the line features a variety of calibers. You'll find Berger bullets in the Match Grade line, renown for their flat base and point bullet design which together produce the most dependably accurate shot for close to medium range shooting. Other bullet selections include premier manufacturers Nosler and Sierra, both built to provide the shooter with the highest quality, most consistent performing bullets possible.
ProGrade Ammunition has simplified the process of choosing the right ammo by hand selecting the best-of-the-best based on usage categories. With more than 250 variations in the complete line of pistol and rifle ammunition, ProGrade has created nine grades of product – Defense Grade, Varmint Grade, Cowboy Grade, Hunter Grade, Bear Grade, Range Grade, Match Grade, Safari Grade and Tactical Grade – for shooters of every caliber.
To learn even more about ProGrade's full line of premium ammunition, contact ProGrade Ammunition, 3616 Eastside Highway, Stevensville, MT 59870. Telephone: (435) 865-5995. www.progradeammo.com.
'Like' ProGrade on to keep up with company news and product information.