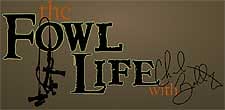 New Berlin, Wis. –-(Ammoland.com)- Waterfowl hunting guru Chad Belding from 'The Fowl Life' has pulled out all the stops this season, including the launch of a brand new interactive website, www.bandednation.com!
The site features awesome photography, videography, and insightful articles, from tips and tactics, to wild game recipes this site has it all!
The brand new site built by Boost Creative in Reno Nevada is fully interactive and offers something for waterfowl hunters, predator hunters, and all sportsmen alike! The site houses contest links, event schedules, product reviews, plenty of information on the Banded Nation; it's sponsor, and the cast and crew
"As technology changes we have to change with it! I loved the old site, but it was time for something new. We wanted to blend cutting edge technology with our deep heritage, showing plenty of hunting, friends, partners, all while keeping our fans abreast on what we have going on all season, I think we truly nailed it!" Belding said.
About Chad Belding: Chad Belding's success started with his reality hunting show called 'The Fowl Life with Chad Belding' which launched on Sportsman Channel and WILD TV in 2008, and airs in more than 40 million homes in North America. Fans across the nation have watched as Belding and his crew hunt in more than 15 states across the U.S., incorporating a local guest in each location who offers advice on their local hunting ground and participates in the hunt. Now approaching season five, 'The Fowl Life with Chad Belding' is a must-see reality series for hunters across the nation. Belding also has a show focused on predator hunts and wildlife conservation called 'Dead Dog Walkin' which began airing on the Sportsman Channel and WILD TV in March of 2011.
About Banded Nation: Launched in January 2011, Banded Nation is comprised of hunters, editors, graphic designers, producers, videographers, and on-camera personalities dedicated to bringing a new approach to outdoor television and outdoor style. Banded Nation was founded by renowned outdoor hunting show host Chad Belding and acts as the parent company to a wide variety of properties including Sportsman Channel and WILD TV's award winning national television series 'The Fowl Life with Chad Belding,' Dead Dog Walkin', 'The Syndicate,' Banded, Banded Fusion, Banded University, Banded Hunts, and Banded Gear. Visit www.bandednation.com for more information