Wild, Wooly and Ready for Hogs, Deer and More!
By Kevin Reese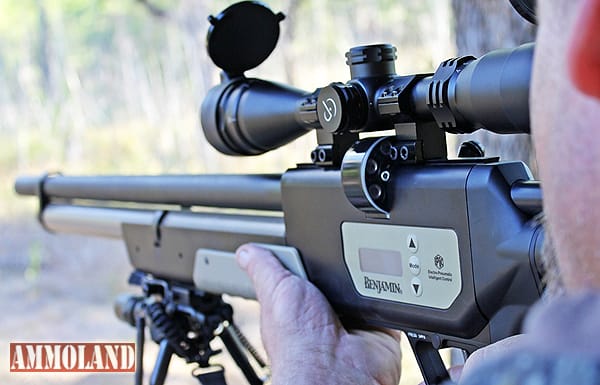 Texas –-(Ammoland.com)-  Is an air rifle enough to stop that next bruiser boar or buck of a lifetime?
A quick trip back to the Lewis and Clark expedition would answer that question through proven results; in fact, their single Giradoni air rifle is considered by many to be the REAL gun that won the west.
The .46-caliber Girandoni fired up to 40 shots on a single charge and the tube magazine held up to 22 rounds that could be emptied in less than 30 seconds.
August 30, 1803 – "Left Pittsburgh this day at 11 ock with a party of 11 hands 7 of which are soldiers, a pilot and three young men on trial they having proposed to go with me throughout the voyage. Arrived at Bruno's Island 3 miles below halted a few minutes. Went on shore and being invited on by some of the gentlemen present to try my airgun which I had purchased brought it on shore charged it and fired myself seven times fifty-five yards with pretty good success." ~ (Lewis and Clark Journals, Volume 1)
Lewis and Clark's journals, comprised of 13 volumes and more than a million words, refer to the Giradoni air rifle 39 times. While they also had 22 muzzleloaders it was the Giradoni air rifle they turned to repeatedly to demonstrate superior fire power to Native Americans, a move more than anything to protect the contents of their keel vessel.
While the expedition only had one Giradoni, tribe leaders could and did assume the keel vessel was loaded down with them and the thought of 38 men firing 22 .46-caliber balls accurately in less than 30 seconds was quite intimidating.
The rifle was also used effectively for big game hunting and was the perfect answer for repeatable fire without compromising powder supplies needed for the 22 muzzleloaders. Merriweather Lewis' use of the Giradoni rifle nearly single handedly assured safe passage and charting of the west for future expansion and certainly proved its worth in hunting.
Check out this informative video about the Giradoni's Air Rifle's rich history from NRA-History at http://tiny.cc/em9w3w
Today, people continue to depend on air rifles and other firearms to provide for their families' sustenance, including big game. The good news, however, is that unlike the 1,500 pumping repetitions required to hand-fill the Giradoni, today's charging systems aren't nearly as arduous.
While smaller caliber air rifles may operate off of factory sealed disposable tanks or age-old hand-pumps, high-powered, big-game-oriented rifles like my personal favorite, Crosman's Benjamin Rogue .357-caliber Precision Air Rifle, are easily charged up to 3,000-psi with a 3,000- to 3,500-psi scuba-style air tank.
The Benjamin Rogue also does not look anything like Lewis' Girandoni. While both are considered PCP systems, the Rogue's patent-pending ePCP technology means more versatility and increased power while the patent-pending eVALVE system makes for more efficient use of the air charge via precision, user-selected distribution options. Shooters not only have some great ammunition choices to make, including round-nosed, flat-nosed and Nosler's eXTREME ballistic tip bullets, they can even use their own cast .357-caliber pellets.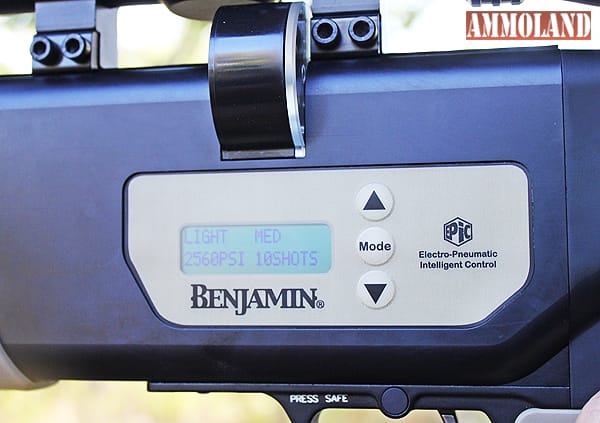 The Rogue's EPiC LED display and selection buttons allow configuration of key ballistic elements including medium-high foot-pounds of energy/velocity options and bullet weights of medium (up to 145 grains) and high (over 145 grains). The rifle even includes manual mode setting. In manual mode, the shooter can calibrate air pressure and valve-release delay to experiment with ballistics and achieve optimum performance from their favorite heart-stopping pellet!
While the Benjamin Rogue can make for a tough carrier over long distances, Crosman's Center-Point 4-16x44mm riflescope does shave that walk down a tad and a picatinny rail system allows for added accessories to increase fit, form and function according to individual needs.
On the Benjamin Rogue air rifle I worked with, I used the picatinny rail to mount interchangeable sitting and kneeling bipods and a Hawglite Sabre high-intensity red LED tactical lighting system that gets me out to well over 100 yards; however, I try to keep larger animals like coyotes, deer and hogs within 75 yards.
Nearly all states allow hunting with air guns in some form or another; check your state regulations for game specific applications, especially before chasing larger animals like deer, hogs, bear and other traditionally recognized big game animals normally taken with firearms or archery equipment. Here in Texas, the Benjamin Rogue .357 is tough enough to take down the biggest boars in the woods and often quiet enough to anchor more than one of those pesky, yet tasty eating bruisers! That means deer also are easy prey for the Rogue – pick your poison!
Imagine the buzz circulating deer camp this fall when you drop the hammer on your next success story with an air rifle! The Benjamin Rogue .357 Air Rifle is more than enough to get the job done for you and is by far my favorite air rifle offering to date.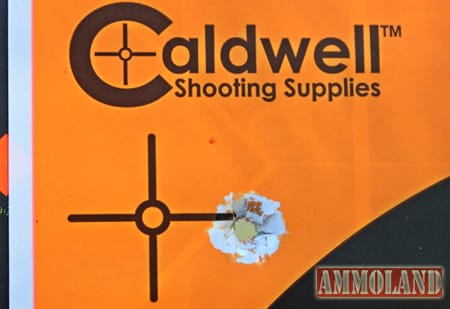 ALMOST All the Right Stuff – What I wasn't so excited about…
Part of field testing some amazing products is really isolating opportunities for improvement. While I feel Crosman really has something special in the Benjamin Rogue, again, it's my current favorite, hands down, there are two areas of improvement worth mentioning.
First, loading the magazine with pellets and subsequently loading that magazine into the rifle's action took quite a bit of practice. While loading the magazine with pellets I dropped my fair share (In Crosman's defense the instruction manual warned me to cover the opposite opening with my finger).
Second, while there is a picatinny rail located at the bottom of the handguard more rails on the sides of the handguard would be a great addition. The lower rail could be used for a bipod while side rails could accommodate systems like the Hawglite Goblin or Crimson Trace CMR-201 Rail Master laser; product reviews for another day. With one rail accessories are either stacked or not added. This may be a great opportunity to offer an array of handguards.
Final Thoughts
Part of my fascination with air rifles is simply nostalgia. Time on an air rifle reminds me of time spent shooting with my dad… and even my mother; she's a heck of a shot, too! With my son, that air rifle legacy continues. His aversion to loud noises, a product of sensory integration, means that shooting air rifles even offers some therapeutic benefits in that he gets to enjoy shooting while avoiding the report of larger firearms, bothersome to him even with hearing protection. At some point, conditioning should resolve his aversion but we choose to eat sensory integration as we would an elephant. Whether shooting a .17-caliber or my wild and wooly Benjamin Rogue .357, Jacob is ready to go.
Hunt hard, hunt often and consider taking the Crosman Benjamin Rogue .357 Air Rifle on your next hunting adventure!
Visit www.Crosman.com, www.Brownells.com, www.Hawglite.com and www.CrimsonTrace.com to learn more about the Benjamin Rogue .357 and other great shooting and hunting accessories.