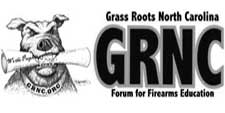 North Carolina –-(Ammoland.com)-It's not even a day old, and already "restaurant carry" is under assault.
Fortunately, GRNC is here to equip you with a way to fire back. Combatting attacks on restaurant carry is an outstanding primer for GRNC's new tool, a tool that will accomplish the impossible.
What are we going to do that's so impossible? With your help, we're going to keep the anti-gun crowd honest!
Introducing: NC Gun Blast!
NC Gun Blast is a free subscription service that delivers timely reports of online gun rights articles, editorials, letters to the editor, and polls directly to your inbox. No more digging around trying to find where the anti-gun media is currently concealing itself, and hoping to stumble across the misstatements, insults and omissions that are in need of correction. Now, there is a one-shot subscription service that will supply you with a list of recent press pieces and polls in need of pro-gun attention. Surely, you'd like every opportunity to straighten out anti-CHP posters who spray the Internet with inspired thought like this:
"In any case, I'll be looking for the 'Gun-Nut Free Zone' signs as I make my choices of which establishments to patronize. The last place I want to be is in a restaurant with a bar filled with a bunch of drunken, armed-to-the-teeth wannabe Rambos just itching for the chance to have somebody 'make their day.'"
Sign up now for NC Gun Blast for the ammo you need to fight anti-gun media bias and ignorance in North Carolina.
Subscribing to NC Gun Blast is quick and easy:
Just type "BLAST 'EM" in the subject line of an e-mail to

[email protected]

Add "

[email protected]

" to your contact list, so Gun Blast e-mails don't end up in your Spam folder.
Are you all signed up? Bang! You are now part of the team. You'll receive periodic e-mails containing links to gun-related articles with comment sections and online polls that require your high-caliber opinion. Our team of North Carolina gun owners will be blasting through anti-gun sentiment, educating the public, and influencing thousands of readers statewide. Your articulate, reasoned and persistent arguments will be a critical part of preserving and expanding gun freedom in our state.
Be a part of the NC Gun Blast squad, and help GRNC target media bias and anti-gun ignorance. Combating the anti-gunners will be a lot easier with you on board, to:
Visit links provided by NC Gun Blast, and respond to articles, editorials and letters to the editor.
Weigh in on opinion polls identified by NC Gun Blast.
Contribute to NC Gun Blast:
Send URL's (web addresses) from North Carolina gun rights-related polls, editorials, articles and letters to the editor,
that have comments sections
, to "
[email protected]
". They will be compiled and distributed to hundreds of other NC Gun Blast subscribers. (You don't have to be a subscriber to contribute.)
Get Started by Defending Restaurant Carry!
What better way for NC Gun Blast to get rolling than to blow the cover of those opposed to restaurant carry? The anti-gun media have made a point of printing misleading statements regarding the mixing of "guns and alcohol." You can fire back right now by commenting on an article on this very topic (see the "Immediate Action Required" section, below).
In the weeks to come, the anti-gun freedom organizations will apply increasing pressure on restaurants to convince them to prohibit concealed carry. This small group of misfits tend to use a misleading online presence as a force multiplier. However, with the introduction of NC Gun Blast and your help, they will no longer get away with it. We are much more numerous, we are right, and we will overwhelm them. Please join up to help us fight the bias, correct the untruths, and expose the lies of omission that pepper the media.
IMMEDIATE ACTION REQUIRED!
Click here to read and comment on a Herald Sun article. Or go here: https://tiny.cc/tzqa4w
Or click here to read and comment on a Fayetteville Observer article. Or go here: https://tiny.cc/u0qa4w
About:
Grass Roots North Carolina/Forum for Firearms Education is a non-profit, all volunteer organization devoted to educating the public about trends which abridge the freedoms guaranteed by the Bill of Rights, and engaging in grass roots activism to preserve those freedoms. Formed in 1994 to conduct a highly successful rally for the Second Amendment, GRNC has gone on to conduct projects like "Remember in November: A Gun Owner's Guide to Voting," bringing concealed carry to North Carolina. Visit:www.grnc.org