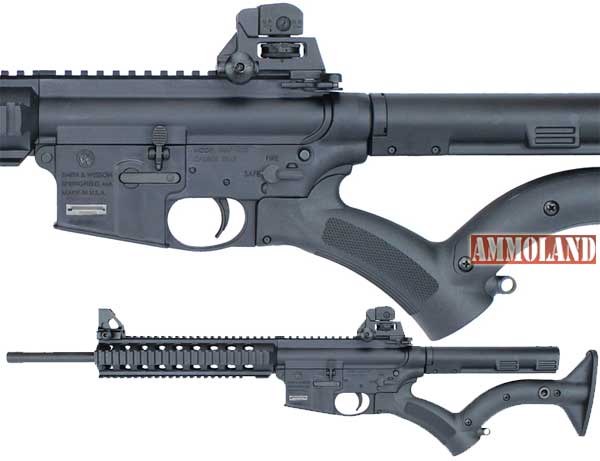 South San Francisco, CA –-(Ammoland.com)-  Thordsen Customs LLC has received many requests from dealers and consumers to produce an adaptation for the FRS-15 Rifle Stock that improves the look and fit with the Smith and Wesson M&P 15-22.
They have responded with the new M&P 15-22 adapter kit.
The stock adapter is designed to compensate for the differences between a standard AR-15 lower receiver and the M&P 15-22 lower receiver. The buffer tube adapter is designed to make installation easier and eliminate the need to modify the buffer tube itself. The result is a much cleaner look and fit to the FRS-15 Stock and Buffer Tube Cover.
The Smith and Wesson M&P 15-22 rifle is one of the most popular semiautomatic rim-fire firearms in the country. Sadly, it has been restricted in certain states because of its so called "evil features." Among these restricted features are the pistol grip and adjustable stock. The installation of an FRS-15 Rifle Stock effectively removes these two features which can aid in bringing a "non-compliant" firearm back to within current restrictions.
Other shooting enthusiasts may prefer the ergonomics of a traditional rifle stock while enjoying the numerous possibilities for optics and other accessories that the M&P 15-22 rail system has to offer.
Specifications:
Machined and fabricated from billet ABS polymer
Easy installation with just a few tools
Full color installation instructions included
Mounting hardware included
Proudly made in South San Francisco, California
For more information and to see more of their innovative products, visit their website at:
http://www.thordsencustoms.com/
DISCLAIMER:
It is the responsibility of firearms dealers and private firearms owners to know and fully understand the federal, state, and local firearms laws in their area. The FRS-15 rifle stock is intended for lawful purposes. Thordsen Customs LLC will not be held liable for any misuse of its products and will assume that our product(s) comply with state and local laws unless otherwise notified by authorities.