American Tactical is proud to be the exclusive importer of the new GSG Target 1911, chambered in 22LR.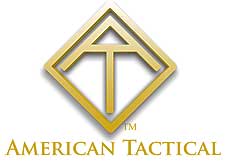 ROCHESTER, NY –-(Ammoland.com)- The GSG Target 1911 is ideal for plinking or competition shooters looking for solid reliability and consistent performance.
Complete with custom target-style wooden grips, adjustable rear sights and magazine extension, this true-to-form 1911 pistol has all the modifications needed to compete.
The GSG Target 1911 is compatible with other 1911 parts, and comes standard with a threaded barrel, beaver tail and grip safety, picatinny rail and an adjustable skeletonized trigger.
Weighing the same as a standard .45 ACP 1911 pistol and with the addition of a 5-blade front sight, the GSG Target 1911 is a 22LR powerhouse.
"The GSG Target 1911 is the perfect addition to our 1911 line," says Joe Calabro, Marketing Director for American Tactical.

"The accuracy and performance of this pistol is top-notch and it will make the perfect addition to any collector, firearms trainer, competition shooter or typical gun lover."
The GSG Target 1911 has 5" Barrel and an MSRP of only $429.95.
American Tactical is one of the nation's top importers of firearms and firearm related products. Having created a unique channel of distribution, American Tactical has quickly become a single-source distribution provider for many manufacturers across the world. From its signature German Sports Guns (GSG) family of products, accessory lines like Drago Gear and manufacturing its own line of ATI AR-15 complete rifles and components, ATI continues to be a leader in the industry.
For more information and to see the full lineup of American Tactical Imports products, please visit www.americantactical.us