New technology designed to transform the user experience.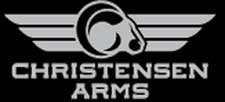 LAS VEGAS, NV –-(Ammoland.com)- Christensen Arms, one of the country's most technologically innovative manufacturers of firearms, will officially kick off 2014 by introducing four new products at Shot Show in Las Vegas, January 14 – 17 2014.
FIND US AT THE SHOW: Christensen Arms has two booths at the 2014 Shot Show at the Sands Expo Center: #2304 downstairs and #10374 upstairs.
WHEN: 8:30 a.m. – 5:30 p.m., January 14 – 16, and 8:30 a.m. – 4 p.m. January 17
COME PREVIEW OUR NEWEST PRODUCTS:
· The Lock Tech Match (LTM) Trigger System: A single stage safety lock system that incorporates a safety hook to lock the hammer in place to ensure the firearm can never shoot while in safe mode. Available on the CA-10, CA-15 and new CD-10 and CD-15.
· Castle Doctrine Modern Sporting Rifle (CD-10 and CD-15): Comes with a new OSS suppressor for reducedflash and noise upon firing and is manufactured with suppression technology based on real world, wartime, and commercial demands. The component combines all OSS technologies into a single unit creating a revolutionary modular suppression device that utilizes 12 patented technologies. This system is specifically engineered to a weapon's operating system, caliber, and barrel length. The OSS Suppressor unit effectively reduces visual and audio signature, back pressure, expelled gases, and operating system wear to give shooters optimal suppression performance.
· Christensen Bolt Action:

The new Christensen Bolt Action is precisely cut, not casted, to its final form with electrical discharge machining (wire EDM) to deliver high accuracy and consistency. Christensen Bolt Action is equipped with a drop magazine and nitrite coated bolt and receiver. Available in both short and long versions for the tactical and hunting markets.

· Stainless Steel and Carbon-Fiber Barrels: For the first time, Christensen now offers a lower price point barrel line made with stainless steel that is highly durable and rigid. Christensen's carbon-fiber barrel line is still developed with their patented lightweight carbon-fiber technology, designed to increase the longevity, durability and accuracy in varying temperatures. Both barrel lines are available in match-grade and select match-grade. Both barrel grades have a maximum Total Indicator Runout (TIR) of .003 inches or less, indicating a minimal tolerance for straightness deviation.
TO ARRANGE AN INTERVIEW, CALL KAITLYN ANDERSON, 303-250-0976, OR EMAIL [email protected]
PHOTOS AND ELECTRONIC MEDIA KIT AVAILABLE UPON REQUEST.
ELECTRONIC 2014 CATALOG AVAILABLE UPON REQUEST.
About Christensen Arms:
Christensen Arms was founded in Gunnison, Utah in 1995 as a result of Dr. Roland Christensen's knowledge of carbon-fiber and passion for hunting. Dr. Christensen first earned his Doctorate of Science in Mechanical Engineering and went on to start a company that utilizes carbon-fiber material for the aerospace and medical industries. This technology was revolutionary in barrel production and saw widespread acceptance. Christensen Arms builds a full range of firearms, including bolt-action rifles for hunting, target shooting, and tactical applications, with hand-laid-up carbon-fiber stocks, produced a line of AR-styled tactical rifles and custom, handcrafted 1911 pistols. These firearms are among the most novel, distinctive and technologically advanced products on the market today. www.christensenarms.com