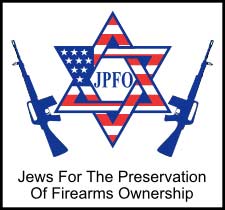 Washington, DC –-(Ammoland.com)- Yes, Jews For The Preservation Of Firearms Ownership ( JPFO ) has been kicking gun-banner a** and taking hoplophobe names since 1989. That was the year Aaron Zelman founded Jews for the Preservation of Firearms Ownership.
This year, all through 2014, we'll be celebrating our 25th anniversary with special membership offers, gifts for donors, cool raffle items, and autographed books. We'll have more about all that soon.
For now, pat yourself on the back as you take a look at all the things you've helped us accomplish over the years:
1993: JPFO publishes 'Gun Control': Gateway to Tyranny. This is the book that showed that the U.S. patterned its 1968 Gun Control Act on Nazi law. Nobody knew it before that. Now the gun world knows it as fact.
2000 (and beyond): With help from volunteers, JPFO translates the Bill of Rights into 15 languages. Now people around the globe have a new key to understanding the core values of freedom.
2003: JPFO produces the documentary "Innocents Betrayed." We show the world that "gun control" lays the groundwork for horrific genocides.
2005: JPFO launches "Talkin' to America," a podcast series featuring interviews with hardcore Second Amendment defenders.
2007: JPFO releases the film "The Gang," a startling documentary showing the terrifying, anti-freedom depredations of the Bureau of Alcohol Tobacco Firearms and Explosives.
2009 JPFO's award-winning film "2A Today for the USA" gives firearms owners good ways to introduce non-gun owners to the Second Amendment.
2009: JPFO releases the hard-hitting film "No Guns for Negroes." It proves that early "gun control" in America was racist, and shows the fallacy in African-American support of gun control.
2010: JPFO releases the film "No Guns for Jews." JPFO's Rabbinic Director Dovid Bendory tells how Jews have been victimized by disarmament for centuries and explains Jewish religious teachings that demand the righteous defense of one's self and the innocent.
Though all these years: We've also published non-fiction books like Dial 911 and Die, Death by 'Gun Control' and novels like The Mitzvah, Hope, and RebelFire: Out of the Gray Zone. Not to mention hundreds of articles and our super-reader-friendly series of Gran'pa Jack booklets.
With your help, we've done all this and MORE! Now we're getting set for the next 25 years. So watch our site and subscribe to our email blasts. Because throughout 2014 we're going to reward you for your support with lots of special deals and fun events. We'll be announcing the first of those very soon.
Thanks for 25 great years!
About:
Jews For The Preservation Of Firearms Ownership Mission is to destroy "gun control" and to encourage Americans to understand and defend all of the Bill of Rights for everyone. Those are the twin goals of Wisconsin-based Jews for the Preservation of Firearms Ownership (JPFO). Founded by Jews and initially aimed at educating the Jewish community about the historical evils that Jews have suffered when they have been disarmed, JPFO has always welcomed persons of all religious beliefs who share a common goal of opposing and reversing victim disarmament policies while advancing liberty for all.
JPFO is a non-profit tax-exempt educational civil rights organization, not a lobby. JPFO's products and programs reach out to as many segments of the American people as possible, using bold tactics without compromise on fundamental principles. Visit www.JPFO.org – Copyright JPFO 2011