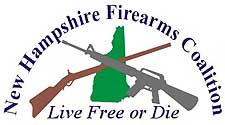 Milford, NH –-(Ammoland.com)- Earlier this week we told you about New Hampshire HB 1589.
A bill that will put you in prison for up to 7 years if you sell or loan a gun to a friend, shooting partner or hunting buddy.
The bill had a public hearing on Tuesday, January 21, 2014 and opponents outnumbered supporters by 30 – 1.  Nevertheless, instead of just killing the bill, Rep. Edward Butler, Chairman of the House Commerce and Consumer Affairs Committee has appointed himself and 2 other State Representatives to a "sub committee" to "study" the bill.
Here's what you need to do:
Contact the members of the Sub Committee, let them know in very clear and polite language, that you are strongly opposed to criminalizing the sale, gifting or loaning of your private property.
Explain to these legislators that HB 1589 might make them "feel like they are doing something" but in reality nothing needs to be done. Please point out that HB 1589 would do nothing to advance public safety. It would not have prevented the tragedies in Newtown, CT (guns stolen after a murder), Aurora, CO (passed background check), or Tuscon, AZ, (passed background check).
In fact there is no proof, anywhere, that allowing peaceable, law-abiding state residents to sell and trade their lawfully-owned property, in this case firearms, poses any risk whatsoever to public safety.
Don't be fooled, private parties cannot order firearms through the mail or UPS, only federally licensed dealers can do that. HB 1589 only addresses face to face private sales.  Please also let these legislators know (because they are most likely ignorant about firearms) that dealers are licensed, but private parties are currently free and should remain free to dispose of their property as they see fit.
Tell them to vote HB 1589, "inexpedient to legislate", (ITL), no amendments, no study committees, the only acceptable vote is ITL.
Sub Committee:
Rep. Edward Butler, (603)374-6131 (the number listed for Rep. Butler is his business (The NotchLand Inn) and is taking his calls at the present time.  Please let people know to call the front desk and ask the front desk person to take a message.)
Time is of the essence, the Sub Committee has already had one "work session", January 23, 2014 at 2:15PM.  Please contact these State Reps. promptly.
If any of these elected officials writes back to you please forward that email to NHFC.
Thanks for your support.
In Liberty,
Scott A. Krauss
Vice President – NHFC
P.S. The New Hampshire Firearms Coalition is working tirelessly to keep gun owners like you up-to-date on as many gun issues as possible — please consider contributing to the effort by chipping in $15 or $20.
About New Hampshire Firearms Coalition:
The New Hampshire Firearms Coalition is New Hampshire's only No Compromise Gun Rights Organization. While many so-called "gun rights groups" work to curry favor with politicians and the media, NHFC is working aggressively to hold politicians accountable and to put a stop to gun control. Visit: www.nhfc-ontarget.org