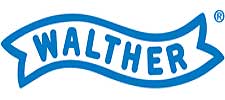 FORT SMITH, Arkansas –-(Ammoland.com)-  The Carl Walther company welcomes you to the IWA 2014 in Nuremberg and is pleased that you are interested in our new products.
This year we will again be unveiling a number of new models that everyone will be talking about.
In the DEFENSE area we are featuring the brand-new WALTHER CCP, a compact 9 mm Luger.
Its gas-delayed blowback action and polygonal barrel ensure outstanding shooting characteristics. The PPQ family, with its M2 models (magazine release on the side) in 9 mm Para, now has four-inch and five-inch versions, and the small-caliber PPQ 22, also in a four-inch and a five-inch sport version, has the same good handling.
For SPORTING weapons our motto this year is "Variety is the spice of life". Thus we'll be showing special versions of popular models for different "target groups".
The WALTHER LG400 comes in an inexpensive Universal version for gun clubs as well as a Blacktec aluminum version in "life-affirming black". The HÄMMERLI AP20 PRO (walnut molded grip) with its modular system and the WALTHER LP400 Club with an innovative ambidextrous plastic grip close the gap in both price and features between the entry-level models and the more expensive LP400 Carbon and LP400 Aluminum match air pistols. And then there's the HÄMMERLI AP20 Hybrid, the perfect entry-level pistol for young shooters.
When equipped with a RedDot laser module it can be legally used by children under 12. After that, it can be converted at the factory to a full-fledged HÄMMERLI AP20.
About Walther Arms
Walther has earned the trust of law enforcement professionals, recreational shooters, and athletes through its line of reliable PPQ, PPS, and PPK pistols. Walther Arms manufactures and markets firearms of various calibers ranging from .22 to .40. For more information, visit www.WaltherArms.com.