This event is 2A FlashMob Approved, anyone attending will automatically qualify for their own FREE 2A Mob Patch.
Illinois –-(Ammoland.com)- The Illinois Council Against Handgun Violence along with Anti-Gun State Representative Elaine Nekritz are planning a public meeting to build support for legislative restrictions on Illinois new concealed carry law.
Anti-gun forces in the Illinois House are attempting to pass legislation that would make it nearly impossible for law-abiding citizens to get concealed carry permits.  They even want to force the removal of firearms from American Legion and VFW halls.  Imagine that.  Our vets serve their country with honor and the gun grabbers want to thank them by denying them their Second Amendment Rights.
Here are the details of the public meeting:
1. Wednesday, April 16, 2014 at 6:00 PM
2. Indian Trails Library, 355 Schoenbeck Road, Wheeling, IL
The organizers of the meeting recommended that people RSVP. Well, reports reaching ISRA headquarters indicate that the gun grabbers are claiming the meeting is "sold out" and no more people will be allowed to attend. Do you really believe that? You know what is happening here, don't you?
BOTTOM LINE: The gun grabbers are denying you the opportunity to use your First Amendment rights to protect your Second Amendment rights. The gun control extremists are locking you out of a public building while they sit inside planning ways of denying you your right to keep and bear arms and your right to self defense.
The purpose of this public meeting is clearly to "educate" antigun businesses and other organizations on ways to tweak the concealed carry law to deny you the ability to defend yourself and your family from violent criminals. The organizers want you left defenseless. Does that set right with you?
HERE IS WHAT YOU NEED TO DO TO PROTECT YOUR RIGHT TO SELF DEFENSE:
1. Call (847) 229-5499 and tell the person who answers that you expect to see the meeting opened to the entire public, not just gun controllers.
2. Plan on attending the meeting at the time and place listed above. If you get there and can't get in, just hang around outside the meeting room.
3. Be sure to wear your NRA shirts/hats and/or your IGOLD hats and shirts.
4. Be sure to tell members of the media that you will not stand for your rights being diminished by those who hate guns.
5. Pass this alert on to your family and friends, tell them to do the same.
6. Post this alert to any and all Internet bulletin boards or blogs to which you belong.
REMEMBER – IF YOU DON'T STAND UP FOR YOUR RIGHTS, NOBODY ELSE WILL!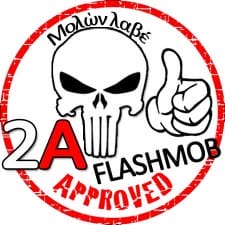 About:
The ISRA is the state's leading advocate of safe, lawful and responsible firearms ownership. Since 1903, the ISRA has represented the interests of over 1.5 million law-abiding Illinois firearm owners Visit: www.isra.org
About 2A Flashmob: 
In an effort to motivate gun owners and Second Amendment Supporters to show up in person at important events and rallies AmmoLand Shooting Sports News is giving away FREE 2A Flashmob Patches to anyone who attends a protest, rally, open carry event, committee hearing at your state capital or a Moveon.org counter protest. (You may already be eligible)
Spread the word, get out, get active!