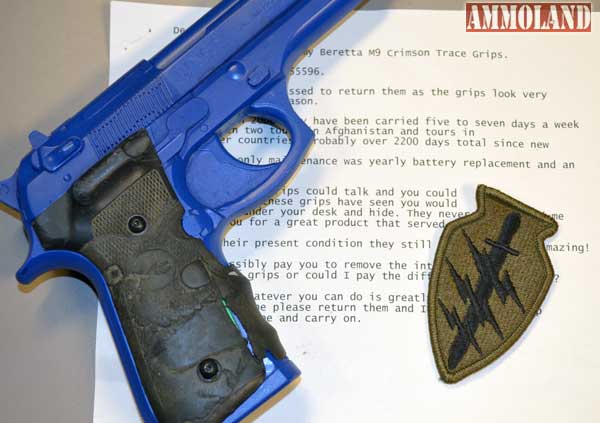 Wilsonville, OR – -(Ammoland.com)- When the tattered Crimson Trace Lasergrips from a military issued pistol arrived with a note at the company's headquarters in Wilsonville, Oregon, the customer service department took great interest.
Those tattered Lasergrips were from a Beretta 92 pistol. The enclosed letter told a story.
The Lasergrips had endured two military tours in Afghanistan and several other countries on the sidearm of a US serviceman. The soldier's letter indicated those Crimson Trace Lasergrips ( https://goo.gl/dJbKv3 )had performed flawlessly during more than 2,200 days on the battlefield. Those combat conditions, including abrasive sand, rubbing against rock walls, and encounters with other obstacles, apparently had not been kind to his gear. Those sands and rocks of distant lands had provided extreme test conditions that would be difficult to replicate through any other method. Fortunately the Lasergrips—and the soldier—survived.
"Even in their present condition, they (the Lasergrips) still work perfectly! Amazing!" wrote former soldier Timothy Bell of South Carolina. He only requested that the Lasergrips be repaired—and returned.
While the Lasergrips were still able to be mounted to the pistol and would instantly engage with the laser's red dot clearly visible, the product was well worn and possibly melted on the exterior. This battlefield gear was so worn that internal wires were visible. Bell received a new set of Crimson Trace Lasergrips and a letter thanking him for his military service.
Another letter received from US Army Sergeant First Class Dillard Johnson of Georgia reported that his pistol fell out of its holster and was severely damaged by a vehicle during a war zone operation. Though also damaged, the pistol's Crimson Trace Lasergrips continued to operate.
"Thank you once again for a fine product," wrote SFC Johnson.
Crimson Trace helps soldiers on battlefields around the globe and has a division—CTC Defense—that works to put laser sights on the firearms and armament of warfighters around the world. The aforementioned letters are examples of the countless reports the company receives from the battlefields about Crimson Trace products that have given soldiers a decisive edge—or have saved their lives.
ABOUT CRIMSON TRACE:
Crimson Trace, the acknowledged industry leader for laser sighting systems and tactical lighting for firearms, is based in Wilsonville, Oregon. Its award-winning innovations include Lasergrips, Laserguard and Lightguard –all with Instinctive Activation . The company's product line also includes the Defender Series and Rail Master platforms – all are proudly Made in the USA. More details are available at: www.crimsontrace.com or by calling 800-442-2406.