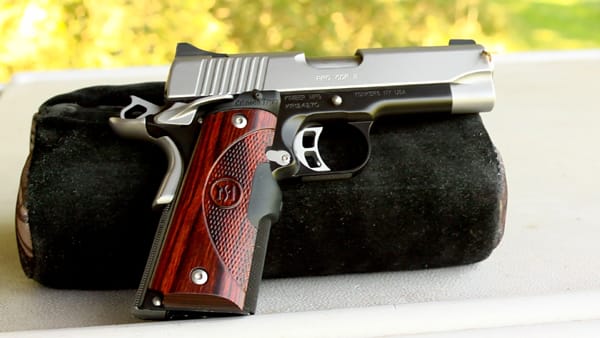 Quality: ****
Reliability:****
Price/Value:****
Referability:****
Average Score 4 out of 5

Wilsonville, OR – -(Ammoland.com)- If you are protecting yourself or your family with a firearm you need to be as prepared as possible.  This means hours of practice with your firearm and mentally preparing for a wide variety of situations. You also need to prepare your firearm with the best ammunition and accessories. If you rely on a 1911 for your protection, you may want to check out the Crimson Trace Master Series Laser Grips.
There are a lot of great reasons to put a laser on your pistol. The laser allows you to always know where the point of impact will be and gives the shooter the ability to have faster more efficient aiming.
Let's start with looks. The Master Series 1911 Crimson Trace Laser Grips feature a beautiful Rosewood finish. You don't put a bumper sticker on a nice car. I think the same applies to firearms, you don't put junky looking grips on a nice gun like a Kimber.  The Crimson Trace grips look like they came with the gun from the factory.
The 1911 full size Master Series laser grips fit 1911 and 1911A1 full size frames. Instillation was a breeze and consisted of taking out the screws placing the dust shield and laser grips on the 1911 frame and putting the screws back in.
The Laser Grips have windage and elevation adjustments but Crimson Trace has them sighted in for 50 feet from the factory. When I sighted in my Kimber I didn't even have to move the laser for my shooting set up.
Unlike some other lasers on the market the Crimson Trace laser grips are very easy to activate. They feature instinctive activation that allows the laser to be turned on while the shooter uses that same grip that they normally would. This is a big advantage because you don't have to change anything about your shooting routine to turn the laser on.
The grips don't add much bulk to the gun and it's almost the same as factory grips.  The Crimson Trace 1911 Laser grips also has an on/off button to help prevent the laser from accidently being turned on.
Crimson Trace lists the 1911 Master Series Laser Grips for $399.00 on their website. This may seem high but do you want to go cheap on something that could help save your family's life?
One really cool thing is if you buy these grips, you are eligible to sign up for free batteries for life. If you sign up for the program you can get one set of batteries every year.
Overall the Crimson Trace Master Series Laser Grips for 1911's are very easy to install and use. Activating the laser is extremely easy and having the laser ready when it's needed most adds a huge level of confidence for me.
Quality: The beautiful Rosewood finish grips and well thought out design are testaments to the time and effort put into this product.
Reliability:  This product could help you a lot when you need it most.  One thing to consider is always make sure the batteries are fresh.
Price/Value: It's not a cheap product.  It could also help save your life.  One really positive feature is that it's made in the USA.
Referability: No matter the gun, if you are using a firearm for personal protection, it only makes sense to add a laser to it.