Cabot Guns, NRA Hope To Raise Profile Of Competitive Gun Sport.
Cabot, Pa. –-(Ammoland.com)-  Custom firearm company Cabot Guns is proud to announce the launch of a new website to promote the sport of Bullseye shooting; www.CabotNRAPistol.com.
"America has a long and proud history of bullseye shooting," said Robert Bianchin, spokesman for Cabot Guns. "CabotNRAPistol.com was created to help share that history."
Filled with high resolution photos from the NRA National Pistol Championships in Camp Perry, Ohio, CabotNRAPistol.com also comes with tips on grip, sight alignment, and trigger control from 13-time National Pistol Champion Brian Zins.
"Who better to learn from than the best," Bianchin said.
In the sport of Bullseye, competitors are asked to fire upon targets up to 50 yards away in a limited amount of time. The center of the target, the bullseye, is a mere 1.7 inches; smaller than bowl of your average spoon. The focus is on accuracy and precision. Rules for the sport have been established by organizations like the NRA and Civilian Marksmanship Program.
The National Rifle Association's National Matches run from July 9 to 13 2013 at Camp Perry, home of the "World Series" of shooting sports. Located at the National Guard training facility on the shore of Lake Erie, Camp Perry has hosted the National Pistol and Rifle Matches since 1907.
Camp Perry is the largest outdoor rifle and pistol range in the world. Beginning in July each year, the National Matches attract shooting sports competitors from worldwide. The camp is home to the 213th Ordnance Company (Missile Support, Corps), the 372d Missile Maintenance Company, the 200th RED HORSE Civil Engineering Squadron (Ohio Air National Guard), U.S. Coast Guard Port Security and the Ohio Naval Militia (the naval arm of the State of Ohio's National Guard) and the Ohio Military Reserve.
The NRA National Pistol Championship consist of three separate matches; .22, .45, and Center Fire.  Cabot Guns is the official sponsor of this year's NRA National Center Fire Championship.
"Cabot Guns is honored to sponsor competitive Bullseye shooting," Bianchin explained. "Cabot Guns, along with the NRA, hopes to raise the profile of the sport and attract new shooters to the wonderful world of Bullseye."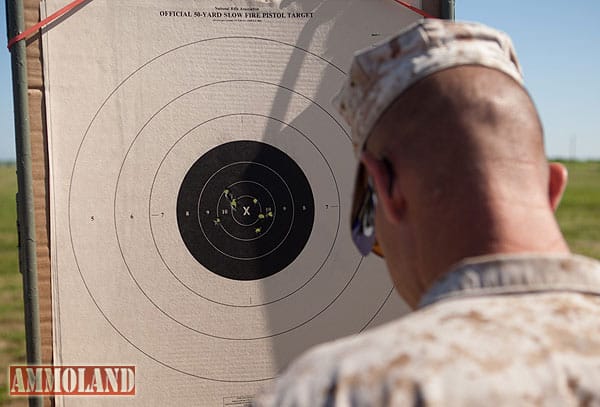 About Cabot Guns
Situated in western Pennsylvania, Cabot Guns produces aerospace quality 1911 style pistols that are 100 percent American-made by craftsmen and nano-technologists obsessed with feel, precision and purity. Learn more about Cabot Guns at www.cabotguns.com.