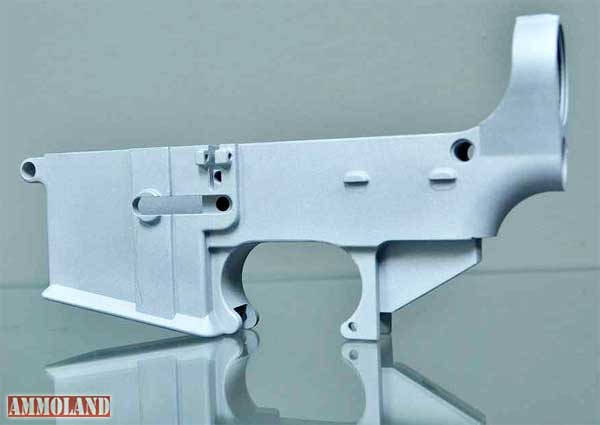 Indianapolis, IN – -(Ammoland.com)- When shopping for an AR lower receiver, you're sure to run on to various terms that depict the method by which a particular lower is manufactured.
These terms will usually be one of three —'forged, billet or cast.' So what's the difference between the three manufacturing processes? Let's take an objective look.
1. Cast Aluminum AR Lower Receiver
One of the processes for manufacturing an AR-15 lower receiver is to 'cast' the lower. This means the lower receiver is formed using a mold. Molten aluminum is poured into the mold to form the overall shape of the lower. Once the aluminum solidifies the aluminum 'casting' is removed from the mold. The 'cast' lower receiver is then finished on a CNC machine.
Cast lower receivers offer buyers some of the most economical lowers of the three manufacturing processes. Furthermore, by casting a lower receiver from A380 aluminum the lower is given the best synthesis of mechanical properties offered by a casting process.
Cast receivers are also the blunt of unfair criticism. Due to a handful of manufacturers who became known for poor casting and inattention to detail, the cast lower has received a bad rap. Although, if properly cast and heat treated, a cast lower receiver can be suitable for most AR-15 applications.
2. Billet Aluminum AR Lower Receiver
A billet lower receiver is formed from a solid block of aluminum often called 'bar stock.' This 'bar stock' is formed from extruded aluminum. "Extruded" simply means the aluminum was formed into a particular shape by rolling between two rollers. (A mental image might be to think of it as a piece of dough, which was extruded or 'rolled' and cut to various shapes to form different types of pasta.) From a piece of this extrusion or 'bar stock' a CNC machine will cut the billet into the shape of an AR-15 lower receiver.
Due to the CNC's ability to machine billet aluminum into designated shapes, billet lower receivers are considered the most aesthetic. While one-piece trigger guards, fine lines and geometric designs do little for overall performance, some AR builders consider these to be bonus features when considering the overall look of their AR build.
3. Forged Aluminum AR Lower Receiver
Forged aluminum generally refers to material that is 'forged' into a specified shape. Forging a lower receiver requires "compressive forces." In other words it is "hammered" into forging dies to shape the aluminum into the intermediate dimension of the lower receiver. After the aluminum lower is forged into the initial shape, the raw forging is then 'finished' on a CNC machine.
Metallurgists agree that a forged piece of aluminum is stronger than cast or billet. The reason being, when the material is shaped under pressure, its 'grain' follows the same shape as the part. As a result, the product manufactured is stronger due to the continuous grain characteristics allowed by the forging process.
Summary
Although personal preference will ultimately be the deciding factor as to what lower receiver you purchase, each method of manufacturing offers some form of benefit. While there has been great debate between the loyalists of each manufacturing process, few can attest to the failure of any lower that has been purchased from a quality manufacturer.
If you have questions regarding Vision Armory's lower receivers or our manufacturing process, please feel free to contact us. You can also view an AR-15 Lower Receiver: Buyers Guide in our convenient resource center.
About AR 15 Lower Receivers
AR-15 Lower Receivers is a seller of quality Mil Spec AR-15 80% lower receivers and 80% lower jigs and uses high quality materials to ensure superior strength and dependability.
Establishing these high standards within our company enables us to provide our customers with both ultimate performance and realized value. We are so confident in the products we manufacture, we offer a limited lifetime warranty on each product we sell (80% lowers not included) and guarantee our customers unparalleled customer service with each item they purchase.
Standing By The Second Amendment 
AR-15 Lower Receivers is proud to support the organizations that currently protect our right to bear arms. From the NRA, Friends of the NRA, Gun Rights Across America, Under Armor's Wounded Warrior Project, Oakley's Infinite Hero Foundation, and others, our goal is to back and promote the rights that have made this country great.
The Mission Is For You
AR-15 Lower Receivers' state-of-the-art designs and continued innovation are beyond simple aesthetics. Our manufacturing processes, technological advances, ongoing engineering and research & development speak of our mission to meet the needs of our customers by providing a quality product at an affordable price.