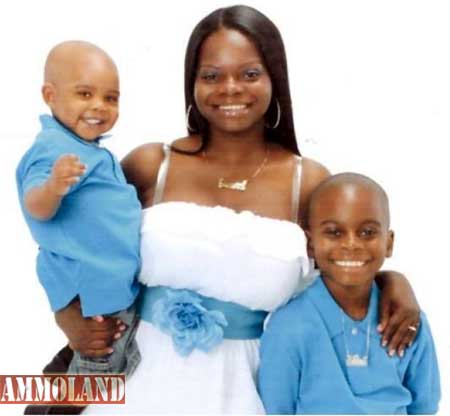 New Jersey –-(Ammoland.com)- New Jersey is doing its best to turn Shaneen Allen into a convicted felon facing a State Prison term of a minimum-mandatory 3-11 years with no chance of parole.
What heinous offense did Shaneen Allen — a hard-working single mother of two, with no prior criminal record — do to deserve such a fate? Last October 2013, she traveled with her Pennsylvania licensed handgun loaded with lawfully purchased, low penetration self defense ammunition, into New Jersey.
On the evening of Wednesday, September 10, 2014 mebers of the New Jersey Second Amendment Society and supporters of Shaneen Allen will assemble peacefully in the parking lot behind the Holiday Inn Express, East Brunswick at 4 Tower Center Boulevard in East Brunswick, NJ at 5:00 pm.
We will then proceed to the Hilton East Brunswick next door at 3 Tower Center where Governor Christie and Mitt Romney will be holding a FUND RAISER on the occasion of the Governor's Birthday.
If you cannot make it at 5:00 PM, please join us at the Hilton any time up to 8:30 PM. We intend to voice our discontent over the treatment of our right to self-defense in general and Shaneen Allen's mistreatment in particular?
It is entirely appropriate to ask the Governor to consider using his considerable, legitimate authority to influence the administration of New Jersey gun laws. As Chief Executive, Governor Christie has broad powers to prevent law enforcement from interfering with the exercise of inalienable, human rights in NJ.
The Second Amendment to the Constitution of the United States of America CLEARLY warns the government not to infringe upon the right to keep and bear arms. The Governor has SWORN to defend the Constitution from those who would destroy it. This is his opportunity to demonstrate to the entire Nation his willingness to do so.
Please join us for this CELEBRATION OF RIGHTS!
PLEASE BRING HAND HELD SIGNS ONLY.
About:
New Jersey Second Amendment Society – Our mission is to promote the free exercise of Second Amendment rights within the community and Legislature of New Jersey, to educate the community regarding the enjoyable, safe, and responsible use of firearms, and to engender a sense of camaraderie and fellowship among the members and their families. Visit: www.nj2as.com