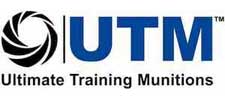 Mobile, Alabama –-(Ammoland.com)- UTM Reality Based Training (UTM RBT) will be attending the 31st Annual National Tactical Officers Association's Tactical Operations Conference and Trade Show at the Arthur R. Outlaw Convention Center in Mobile, Alabama from 21-26 September.
UTM RBT will have a booth where they will be displaying and demonstrating the most innovative, technologically advanced and comprehensive training system in existence.
"Our system was designed through our experience of working with Elite Special Forces, Militaries and Law Enforcement Agencies around the world, where we created an integrated system of the most effective methodologies and best practices, which is specifically designed to be easily adaptable and utilized throughout the training cycle -‐‑ from marksmanship fundamentals to the advanced skills needed in a dynamic environment with stress inoculation. "

"It also allows for cross discipline training, such as integrating firearms with Non-Lethal Training Ammunition into combatives and tactics training, to maximize the effectiveness of the overall program -‐‑ the only fully comprehensive system on the market to offer a complete and effective training solution," says Tony Lambraia, UTM RBT, USA Chief of Operations.

"We have really been looking at new innovations for all of our products, inline with our customers needs. Our 5.56mm man marking round (MMR) is the safest and most accurate of any training ammunition on the market, with a consistent velocity of 375 fps and an unprecedented 2-inch mean radius grouping at 20 meters."

"Converting a weapon to use our ammunition is an easy bolt exchange, which means operators are using their own weapons, optics and accessories – no modifications needed – and once converted, the weapon cannot fire a live round because our bolt has a 3mm offset firing pin. It's simple, safe, reliable and accurate – everything our customers are looking for. It's an exciting time in our product development and for the company," stated Steven Didier, UTM RBT, International Chief of Operations.
The training system will be on display and demonstrations will be given throughout the week. Participants are encouraged to come by the booth and ask for a hands on demonstration and explanation of the system and all of its components and applications. For more details visit the website at www.utmworldwide.com