By Tom McHale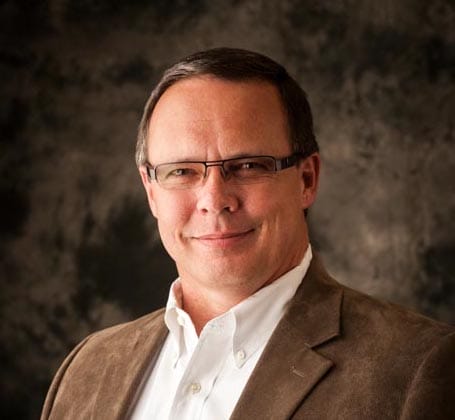 USA –-(Ammoland.com)-  Got cows? Galco does. Lot's of them.
You know Galco Gunleather, right? They've served billions and billions of holsters.
Well, maybe not billions, but at least dozens of boatloads, judging by the size of their factory and activity level of all the folks in there.
I recently had the distinct pleasure of a factory tour. You see, I'm a self-admitted holster geek. I even wrote an entire book on methods of concealed carry and gun holsters. Yes, I'm hopeless on holsters, so when I had the opportunity to visit Galco, I jumped on it like Kanye West to the nearest microphone.
The very first thing I learned about was cows. Did you know that every year, Galco turns 886,000 square feet of leather into first-rate gun holsters? That's about 20,000 cows.
If you lined all those cows up, they would reach from PETA's headquarters in Washington DC all the way to the Chick-Fil-A in Warrenton, Virginia. Trust me, I did the math.
OK, so odds are you're not reading this because you need to know how many cows it takes to block the highway from DC to Warrenton, so let's get to the cool part – the making of gun holsters. It's a fascinating mix of high-tech automation and skilled handcrafting.
The first challenge is shoes. See, we used to make lots and lots of shoes here in the US, so there were thousands of tanneries that supplied all that leather. Now, since most shoes are made overseas, there are only two major vegetable tanneries here in the US, and Galco buys the lion's share of tanned leather from both of them.
Like yummy steaks, leather comes in different cuts depending on the intended usage. Galco orders back sections, which are about half a cow from the center of the back down each side. One of these sections is about the size of the hood of a 1970 AMC Gremlin, but not quite as wide and a little longer.
The older way of cutting leather involves use of hand-made dies. These dies are laid out over a sheet of leather and pressed through to cut the desired shape. It's up to the experienced cutter to obtain maximum use of each sheet of leather while minimizing waste.
The new way is incredibly cool. As each cow is different, the incoming leather sheets are always different sizes. Imperfections such as discolorations or scrapes exist in different spots on each and every sheet. A digital scanner looks at each incoming sheet of leather and identifies shape, surface area and "marks" imperfection areas with a "do not use" status.
Next, the computer does serious voodoo and looks at incoming production orders so it can figure out what cuts need to be made for any of the leather products or components. It then completes a jigsaw that maximizes utilization while not cutting from areas with imperfections. The computer may cut a dozen different products from a single sheet if that's the best way to use the leather.
After cutting, overhead projectors beam the part numbers on the newly cut sections so operators know what the computer just made.
This is the most painful machine in the whole place. I got the heebie-jeebies just watching it run. It shaves cut pieces of leather to the exact desired thickness. Galco's been trying for years to convince cows to grow their hides to specific dimensions, but like Lindsay Lohan, they just won't listen.
One of the distinctive features of Galco leather holsters is the level of detail in fit and finish. The leather edges are always rounded, polished and properly colored. It seems like a simple process, but really involves multiple steps completed by skilled operators. First, bevels are hand cut to facilitate polishing the edges to a round shape. After polishing, edges are smoothed and colored as necessary. It's about a half dozen steps, just to make the edges nice.
That's attention to detail.
See the guy on the left? That's Manuel. He's hand boning premium holsters. Hand boning involves soaking the leather holster shells in warm, wet goo to soften them up, then using metal molds and hand tools to shape the leather to that of the desired gun. The shaping around slide, trigger guard, and barrel is what provides solid fit and friction retention. When you get a Galco leather holster, it will be tight – by design.
Since we're doing interesting math in this article, I should mention that the Galco folks figured out that Manuel has hand-boned over one million holsters – and that was as of six months ago. I couldn't help but notice Manuel has seriously muscular fingers. I saw him crushing billiards balls into dust – with his left hand.
These already beautiful looking magazine carriers are not anywhere near finished. To obtain the attractive, and more importantly durable, finish, they spend about a week getting treated and dried time and time again. It's kind of like applying dozens of coats of linseed oil to finish a fine gun stock.
Ever see Alien? If so, you remember how little alien tykes popped out of people's guts. This process is pretty much the same, although much less bloody. This machine produces the Kydex shells for holsters like the King Tuk. As you watch, the holster shape emerges from below, forming components from a flat sheet of Kydex. An automated cutting machine then slices each component from the sheet. After cutting, you guessed it, real humans do final touches like polishing the edges and assembling into finished product.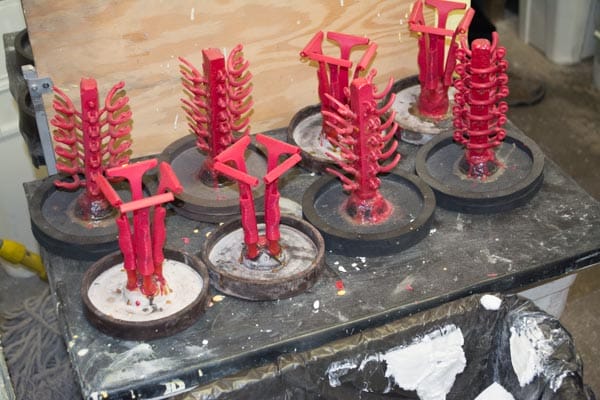 Speaking on non-leather materials, Galco also makes their own pieces and parts like belt buckles and brass parts on their concealed carry purses. As one of the more fascinating parts of the tour, I watched the manufacture of these brass components in the in-house foundry. Galco uses the lost wax technique to design and cast all sorts of metal components.
You know what happens to all these holsters – you see them in retail stores across the country. What you might not know about is the celebrity factor. Just off the lobby in Galco's facility is the company museum. Filled with holsters used in television shows and movies you'll find signed displays and photos from actors who've used Galco products. Who could forget Don Johnson's shoulder rig from Miami Vice? Or the dual 1911 small-of-back holster from Face Off starring John Travolta and Nicholas Cage?
Visit www.galcogunleather.com tell them Tom sent you.
About
Tom McHale is the author of the Insanely Practical Guides book series that guides new and experienced shooters alike in a fun, approachable, and practical way. His books are available in print and eBook format on Amazon. You can also find him on Google+, Facebook, Twitter and Pinterest.