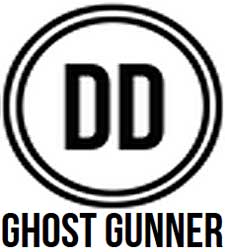 Teaxs – -(Ammoland.com)- Ghost Gunner is a miniature CNC machine designed to automatically manufacture publicy created designs with nearly zero user interaction.
No prior CNC knowledge or experience is required to manufacture from design files.
Defense Distributed's first design is the venerable AR-15 lower receiver. Ghost Gunner automatically finds and aligns your 80% lower receiver to the machine, with simple installation instructions, point and click software and all required tools.
Just follow a few simple instructions to mount your 80% lower receiver, tighten a couple screws (with simple tools we provide), and on day one, Ghost Gunner can help you legally manufacture unserialized firearms in the comfort of your own home.
As shipped, Ghost Gunner can manufacture any mil-spec 80% AR-15 lower receiver that already has the rear take down well milled out. Lowers with non-mil-spec trigger guards that are otherwise mil-spec are also compatible. Defense Distributed recommends using the 7075 Ares Armor Raw 80% Lower AR-15 Billet, available for purchase here.
More than Guns
Ghost Gunner is capable of manufacturing more than just firearm receivers. With Defense Distributed's open source Physibles Development SDK (pDev), designers can distribute files via our '.dd' file format, which contains all installation and assembly instructions, any required jig files to hold the part in place (that users can print with a 3D printer), and all machine definitions and code to physically manufacture a particular design.
To a casual user, the .dd file is a one-stop solution to manufacturing any aluminum physible that the public can design to fit into the build envelope. Defense Distributed will be developing in and supporting this format, and we are happy to publish your own innovations and contributions.
Ease of Use
If you can assemble a firearm or operate a 3D printer, you can use Ghost Gunner.
Ghost Gunner ships fully assembled and ready to build right out of the box. No assembly is necessary and no programming is required. After installing the included software, you'll be ready to manufacture publicly available .dd designs. Defense Distributed is committed to releasing future firearm design files, from the AR-15 to the AR-10 to the 1911, and then continuing with our own designs.
DD Files
The .dd file format is itself open source and not constrained to the Ghost Gunner or Defense Distributed; any user can define any existing machine's specific parameters via the machine parameters list. A single file can contain specific code and installation instructions for any number of machines. A user with both a Ghost Gunner and a Tormach P1100 could manufacture a particular .dd file on either machine and manufacture the same physible with zero additional user knowledge, as only the instructions required for a particular machine are revealed to the end user. The .dd file format is a CNC response to 3D printing's universal .stl file format.
For those who have a favorite CAM program and don't want to share your design via our new file format, Ghost Gunner will also accept TinyG code from any CAM program.
Design
Ghost Gunner uses a compact, powdercoated A36 steel frame and thick stainless T-slot rail, with preloaded ball bearings for maximum rigidity. Linear motion is achieved with low-backlash direct-drive ballscrews mounted in-line with the cutting surface, thus preventing torsional gantry chatter while machining. Most of the machines in our price range use belted or all-thread motion components, which are susceptible to chatter due to elongation or thread gapping each time the force direction changes.
Ghost Gunner incorporates an electronic probe that automatically detects when the machine comes into contact with your part, allowing automatic part discovery and alignment. Ghost Gunner requires conductive parts if auto-discovery and alignment are used. Ghost Gunner is more than capable of manually machining nonconductive materials, but this requires manual calibration of a part to the machine – following a few simple instructions – as is required with existing CNC machines. https://youtu.be/xwRtll3jjU4
Containment
To contain aluminum chips, Ghost Gunner includes a chip collection tray and all moving components are fully enclosed. No messy lubrication is required, as the machine mills in a manner that contains the heat in the chip load. In addition, the machine is capable of manufacturing deep pockets due to its vertical gantry, which allows gravity to pull chips away from the cutting surface before they can build up and dull the end mill, as is the case on traditional CNC designs.
Pricing
CNC mills with this level of automation retail for thousands of dollars, but Ghost Gunner gives you an affordable, automated package without sacrificing quality. After our initial pre-order campaign, Ghost Gunner will retail for under $1500.
Specifications
Ghost Gunner
Machinable dimensions: 175 x 75 x 60mm (~6.75 x 2.95 x 2.35″)
Maximum part dimensions: 230 x 90 x 100mm (~9.05 x 3.50 x 3.90″)
Overall footprint: 330 x 280mm (~13 x 11″)
Weight: 20kg (~45 pounds)
Spindle Speed: 10,000+ RPM (Final Value TBD)
Requirements: Windows 7 or higher. Mac version TBD.
Open Source Hardware
Ghost Gunner is a non-profit open source hardware effort by Defense Distributed. Ghost Gunner builds on the open source community's existing hard work, including the gshield 3 axis motion hardware, the grbl g-code parser and motion controller, and the legendary Arduino microcontroller. All GhostGunner schematics and design files will be published into the public domain. Defense Distributed decided to build our own machine from the ground up. We found existing CNC machines too expensive, too DIY, or too inaccurate to manufacture firearms for the casual user. By miniaturizing the build envelope to just large enough to mill common firearm receivers, we were able to improve rigidity, reduce material cost and simultaneously relax some design limits, allowing us to sell an inexpensive machine with more than enough accuracy to manufacture firearms.
Ghost Gunner has undergone several design revisions to reduce machine chatter, backlash, and jitter, all with the goal of keeping total design cost low. Rather than using plastic, wood, or even an aluminum frame, Ghost Gunner is constructed with maximally rigid plasma-cut A36 steel and 304 stainless steel. In addition, the machine part count is greatly reduced compared to a traditional CNC, which both increases rigidity and further decreases cost. The end result is a small, cheap, and simple machine that exceeds most consumer-priced CNC machine specifications. https://ghostgunner.net/