Voters deserve to have the issues debated in public.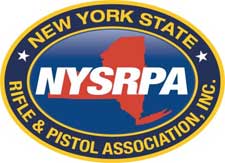 New York –-(Ammoland.com)- The New York State Rifle & Pistol Association calls for an additional televised debate between Governor Andrew Cuomo and challenger Rob Astorino.
The single gubernatorial debate last week gave each candidate only 12 minutes to speak and left many important subjects untouched.
"Governor Cuomo made gun control his signature issue and made it clear that he intended it to be the foundation of a future presidential campaign," said NYSRPA President Thomas King.

"Because of time constraints the issue was not seriously discussed. I'd think the Governor would jump at another chance to spotlight his issue and tell all New Yorkers how much better off they are because of his actions."
About:
The New York State Rifle & Pistol Association is the state's largest and oldest firearms advocacy organization. Since 1871, our organization has been dedicated to the preservation of Second Amendment rights, firearm safety, education and training, and the shooting sports. Our membership consists of individuals and clubs throughout the state. We are a not-for-profit 501(c)4 organization and the official NRA-affiliated State Association in New York. Visit: www.nysrpa.org