Knife Rights' First Annual Ratings of the Worst & Best Cities or States for Knife Owners.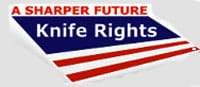 Gilbert, AZ –-(Ammoland.com)- Bend, Oregon –-(Ammoland.com)- In the past five years Knife Rights has significantly advanced the rights of law-abiding knife owners in the United States, passing 15 pro-knife bills in 11 states.
Knife Rights Chairman Doug Ritter explains, "This first annual Knife Rights review of the worst and best knife laws in America contrasts places where law-abiding knife owners enjoy complete or substantial freedom with those places which restrict the freedom of honest citizens by imposing arbitrary and irrational restrictions. These extreme anti-knife regulations are universally ignored by criminals and serve only to harass unsuspecting citizens."
The ratings were released at the National Assembly of Sportsmen's Caucuses Sportsman – Legislator Summit held in Sunriver, Oregon.
Knife Owners Beware! The 10 Worst Anti-Knife Cities in America
The ten worst anti-knife cities stand out for their outright persecution of honest knife owners and extraordinarily restrictive anti-knife ordinances, far more severe than even the state laws in those areas. All too often this results in unwary citizens being subject to arrest and prosecution, and loss of their knives, for having a knife that is perfectly legal elsewhere in the state.
1. New York, NY (majority of pocketknives will result in arrest, aggressive prosecution of knife owners, over 60,000 to date)
2. Philadelphia, PA (all knives are illegal to carry except when actually in use on the job)
3. Ocean City, MD (many common pocketknives are illegal, Catch 22 traps many citizens)
4. San Antonio, TX (all locking-blade pocketknives knives are illegal to carry except on the job)
5. Rocky River, OH (2.5-inch blade limit)
6. Boston, MA (2.5-inch blade carry limit, including in any vehicle)
7. Cleveland, OH (2.5-inch blade carry limit, registration of any sale or gift of a longer bladed knife)
8. Chicago, IL (2.5-inch blade concealed carry limit, 2-inch blade limit for 18 and under, but minor cannot legally obtain any knife)
9. Corpus Christi, TX (illegal to carry any fixed blade knife or a folder with a blade longer than 3-inches except when actually in use on the job)
10. Aspen, CO (Any concealed knife is illegal to carry in public)
More details on each of the 10 worst cities' knife restrictions can be found at: www.KnifeRights.org/10WorstBest2014
10 Best States for Knife Owners
Tied for First Place: Alaska / Arizona / Kansas / New Hampshire / Tennessee / Utah
Second Place: Georgia
Tied for Third Place: Arkansas / South Carolina / South Dakota
Law-abiding knife owners face no restrictions on the knives they can own or carry in Alaska, Arizona, Kansas, New Hampshire, Tennessee and Utah. In all these states only the criminal misuse of a knife is illegal. In Georgia, the only restriction is that knives carried are limited to a 5-inch blade.
All of the states in First and Second Place have enacted Knife Rights' model knife law preemption bills. Preemption stops local jurisdictions from passing ordinances more restrictive than state law, preventing a patchwork of local laws that can trap unwary citizens.
Arkansas, South Carolina and South Dakota have no knife restrictions at the state level. However, these states have not yet enacted knife law preemption, so towns and cities in these states are free to enact restrictions greater than state law. Knife owners need to be wary in that regard.
Know the Law – Don't Get Arrested!
In states and cities with knife restrictions, knowledge of the law is essential to avoid an unfortunate arrest, loss of knife or other legal complications. Knife Rights Foundation introduced its LegalBlade App this year to provide guidance at your fingertips to the knife laws of all 50 states as well as over 40 cities and local jurisdictions, with more being added every month.
Knife Rights Founder and Chairman Doug Ritter notes, "While Knife Rights will continue to aggressively work to repeal bad knife laws, knowledge of the law is the first step in avoiding an unfortunate arrest, loss of your knife or other legal complications."
The LegalBlade App is available now in the App Store and on Google play
About Knife Rights
Knife Rights (www.KnifeRights.org) is America's grassroots knife owners organization, aggressively fighting for a Sharper Future™ for all knife owners. Knife Rights is rewriting knife law in America™. In the past five years, Knife Rights has passed pro-knife legislation in 11 states and prevented anti-knife legislation in four states. Knife Rights is also the lead plaintiff in a federal civil rights lawsuit against New York City and the Manhattan District Attorney for wrongly persecuting knife owners.