By John R Lott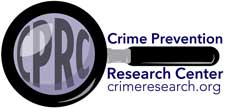 Colorado –-(Ammoland.com)-  The figure using the FBI data pretty much summarizes their claim: from 2000 to 2013, fatalities from public shootings in the US have grown by an average annual rate of 16.4%. [What??!]
While the FBI report provides graphs illustrating "active shooting incidents," NOT mass shootings, given the way that the report was written, the media has understandably interpreted the report as implying that mass public shootings have massively increased over time.
To get a rough idea of the media coverage look at these headlines:
But instead of a 16 percent annual growth in fatalities, the actual growth rate is less than one percent and even that small growth rate is heavily dependent on just one year, 2012.
The Obama administration's FBI report obtained its result by manipulating the data: including non-mass shootings, missing mass shooting cases, and selectively picking the period of time that they examined. Part of the abstract of the CRPC's latest report describes what the Obama administration did:
But the FBI made a number of subtle and misleading decisions as well as outright errors. Once these biases and mistakes are fixed, the annual growth rate in homicides is cut in half. When a longer period of time is examined (1977 through the first half of 2014), deaths from Mass Public Shootings show only a slight, statistically insignificant, increase – an annual increase of less than one percent.

The FBI's misleadingly includes cases that aren't mass shootings – cases where no one or only one person was killed in a public place. While the FBI assures people that it "captured the vast majority of incidents falling within the search criteria," their report missed 20 shootings where at least two people were killed in a public place. Most of these missing cases took place early on, biasing their results towards showing an increase.
The rest of the CPRC report is available here.  Given how broad the FBI's measure of shootings is, it is useful to point out that murders have gone down significantly between 2000 and 2013, falling from 5.5 to 4.7 per 100,000 people.
Discussions of research at
A related discussion at Reason.com is available here.
About Crime Prevention Research Center
The Crime Prevention Research Center (CPRC) is a research and education organization dedicated to conducting academic quality research on the relationship between laws regulating the ownership or use of guns, crime, and public safety; educating the public on the results of such research; and supporting other organizations, projects, and initiatives that are organized and operated for similar purposes. Visit: www.crimepreventionresearchcenter.org