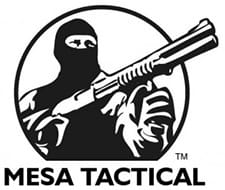 Costa Mesa, CA -(Ammoland.com)- Mesa Tactical, supplier of rugged and reliable tactical gear for law enforcement, military and personal protection has introduced an adapter for 20 gauge Remington 870 shotguns to use 12 gauge 870 butt stocks.
Called the Lucy Adapter, this elegantly simple coupler simply bolts to the back of a 20 gauge 870 receiver, allowing the 12 gauge stock to then rigidly bolt to the adapter. This greatly increases the options and availability of butt stocks for the 20 gauge shotgun. The 20 gauge Remington 870 is an excellent platform for personal defense, but it suffered from fewer tactical butt stock offerings than its 12 gauge counterpart.
The Lucy Adapter solves this problem. AI&P Tactical has long been an advocate of the 20 gauge shotgun as a tactical platform. Needing professional use tactical products for their 20 gauge shotgun builds, AI&P contacted Mesa Tactical about making an adapter to fit 12 gauge stocks onto the smaller 20 gauge frames. The resulting adapter helps AI&P meet the needs and requests looking to fit Mesa Tactical stocks onto their 20 gauge Remington 870 shotguns. The adapter's namesake is Mesa Tactical's Sales Director, Lucy Espinoza.
After receiving numerous requests for Mesa Tactical's popular Urbino Stock for the 20 gauge Remington 870, and being a 20 gauge fan herself, she pushed for the development of the adapter.
Prices and Availability:
Lucy 12ga to 20ga Stock Adapter
Made from cast steel with a parkerized finish, the Lucy Adapter is now available for purchase.
About Mesa Tactical
Mesa Tactical was formed in 2003 to design and manufacture rugged, professional grade tactical accessories and equipment for law enforcement, military and civilian shooters. Specializing in enhancements for the tactical shotgun, Mesa Tactical's products include stocks, forends, shotshell carriers, scope mounts and Picatinny rails. For more information on the company's line of unique, professional-grade products, contact Mesa Tactical at 714-545-3332 or visit www.mesatactical.com.