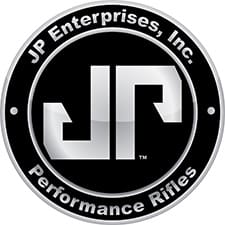 Hugo, MN -(Ammoland.com)- Seen by the public for the first time at SHOT Show 2015, two new limited edition rifles by JP Enterprises proved real attention-grabbers on the show floor this year.
The "Billet Beauty" is a limited run of JP's large-frame LRP-07 platform available in .308, .260 Remington, 6.5 Creedmoor or .338 Federal. Highly stylized, this rifle is an homage to the late-war appearance of several American aircraft of World War II, with special inspiration from the B-17 known as Liberty Belle operated until 2011 by The Liberty Foundation out of Claremore, Oklahoma.
The hallmark paint scheme of the bomber is captured by a two-tone Cerakote treatment (with optional accent color) coupled with OD Green Magpul furniture and black accents in the trigger, safety, charging handle slider and mag release. The Magpul MOE stock features a printed rendition of the B-17 tail markings, while the blasted, stainless barrel receives a blackening of Cerakote overspray to evoke the distinctive oil smoke stains of the aircraft's radial engines. Finally, the sides of the magazine well are fitted with art plates displaying both the period Army Air Force logo and specially commissioned bomber girl nose art.
With only 25 pieces being produced, the ordering window for the Billet Beauty is open only while the supply lasts and no later than March 1st.
The Presentation Grade Finish has been the signature of JP Enterprises' billet rifles for over a decade since the launch of their CTR-02 in 2002. In collaboration with master engraver Brian Powley, JP has now debuted what they consider an even higher level of cosmetic refinement for this small-frame platform.
The Engraved Edition CTR-02 receives the entirety of JP's Presentation Grade Finish whereby the flats of the receiver set as well as various accents and the complete barrel are polished to a mirror sheen. On top of this, each of these limited number of receiver sets is set apart by custom engraved flourishes adorning the receiver flats to evoke a merger of old-world craftsmanship with the cutting edge of modern rifle refinement.
With an initial run of these receiver sets now available, JP is anticipating a warm reception by shooters eager for a rifle that stands apart from any other AR available.
For more information on JP Enterprises and these special edition rifles, visit their website at www.jprifles.com and keep up to date on the newest JP developments at www.facebook.com/JPRifles, www.twitter.com/JPRifles and www.youtube.com/JPRifles.
About JP Enterprises
We at JP are grateful and humbled by our customers' continued support and the ever-increasing representation of our product line in the law enforcement and military domain as well as in the civilian market. The reception of our new products is gratifying and tells us that we have it right. By continually utilizing the feedback of our LE and military customers as well as our Team JP shooting members, we are constantly honing the edge of our designs and forging new concepts on the anvil of tactical rifle competition on the national circuit. We look forward to serving you now and in the future with the most dependable and high-quality components, rifles and customer service to be found anywhere.
For more information on JP Enterprises, please visit their website at www.jprifles.com.