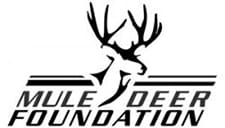 Salt Lake City, UT -(Ammoland.com)- On February 21, the hard work and dedication of the Mule Deer Foundation's (MDF) volunteers and chapters were spotlighted during the Volunteer Recognition Event at the Western Hunting & Conservation Expo.
MDF uses the event to thank the chapters that dedicate the most volunteer hours and raise the most funds to support the organization's conservation mission. At the breakfast, MDF honored Arizona's Jim Lawrence with the Maggie Justice Award recognizing the volunteer who has dedicated significant time and resources for mule deer conservation.
Washington state chair, Rachel Shilley-Voss was also honored with MDF's Elite Volunteer Award, an award that has only been given out once before in the history of the organization.
"The Volunteer Recognition breakfast at the Western Hunting & Conservation Expo is our opportunity to recognize and thank the many volunteers that make the Mule Deer Foundation the organization that it is," commented MDF President/CEO Miles Moretti. "When you combine the number of volunteer hours that each chapter puts together with their fundraising efforts to get conservation dollars down on the ground, you are looking at literally thousands of hours of hard work for mule deer and black-tailed deer. Our volunteers and chapters are a key reason that MDF is one of the most efficient sportsmen's conservation organizations."
This year's Maggie Justice Award for the top MDF volunteer went to Jim Lawrence with the North Valley Chapter in Cave Creek, Arizona. Lawrence stepped up as chapter chair in 2013 for what was then the newest chapter in the state. Since that time, it has become the busiest and most active chapter in Arizona. Under Lawrence's leadership, the chapter contributed over 2,000 hours on the ground in volunteer hours and was the highest netting new chapter in the entire organization. In addition, Lawrence helped MDF grow in the state going from one chapter in his first year to 13 chapters to date.
"His dedication and commitment to the Mule Deer Foundation is obvious and his love for our mule deer is even more recognizable. Jim's work and his leadership has helped our great state of Arizona more than anyone can imagine," noted MDF's Arizona regional director, Terry Herndon. "The future is very bright in Arizona and people like Jim Lawrence are a major part of our vision for MDF to become the number one conservation organization in our state and in the country."
Rachel Shilley-Voss, the incoming state chair for MDF in Washington, was honored with the Elite Volunteer Award – a periodic award given to a volunteer who has gone above and beyond, particularly during times of personal struggle. Voss jumped in quickly to fill the big shoes left by outgoing state chair, Mike Jones. Washington saw several major fires in 2014 and Voss is working to build relationships with the U.S. Forest Service in the region to facilitate efforts by state chapters to restore the lost mule deer habitat. In addition, the state has seen a rapid increase in MDF members and volunteers, now counting over 3,600 members in the state and more expected to get involved as new chapters are formed. Voss is a strong voice for MDF in the state working many sportsmen's shows and doing radio interviews to talk about conservation and mule deer.
"Washington has big things ahead for 2015 and I'm incredibly honored to be involved," said Voss. "We are thriving volunteer-wise, have tremendous support from our communities, and are building some great bonds with multiple agencies. Excitement continues to build from the great work our chapters are doing, and it is definitely contagious. Positive, dedicated and energetic volunteers are what makes MDF go around, and Washington state is full of them!"
The top new MDF chapters this year went to the Central Washington Chapter in Ellensburg, Wash. for highest efficiency followed by the Canyon Lands Chapter in Moab, Utah. The North Valley Chapter and the West Dakota Chapter in Minot, North Dakota were the highest netting new chapters. For existing chapters, the Treasure State Chapter in Butte, Montana took first place for highest efficiency with the Magic Valley Chapter in Twin Falls, Idaho as runner-up. The Midland Texas Chapter won top honors for highest net and the Teddy Roosevelt Chapter in Dickinson, North Dakota came in as runner-up. The Burnett County Texas Chapter received the award for the Most Improved Chapter.
Six MDF chapters were honored for their "sweat equity" of up to 100 hours of on-the-ground conservation work, six chapters had 100-249 hours of sweat equity, and this year eight chapters reported more than 250 hours. The North Valley Chapter topped the list with a remarkable 2,050 volunteer conservation hours; the Utah County Chapter in Provo, Utah had an impressive 818 and the Central Washington Chapter had 660 hours. This year, chapters doubled the number of volunteer hours compared to last year – when combined, all of the chapters gave over 7,000 hours of their time to help mule deer and their habitat.
"The history of our conservation movement has proven time and again that volunteers make conservation work," said Jana Waller, host of The Sportsman Channel's Skull Bound TV during remarks to the packed room. "Your time and your efforts for mule deer drive this organization and drive the future of our hunting opportunities. We all thank each and every one of you for your many hours of hard work on behalf of our wildlife resources."
About MDF
The Mule Deer Foundation is the only conservation group in North America dedicated to restoring, improving and protecting mule deer and black-tailed deer and their habitat, with a focus on science and program efficiency. MDF is a strong voice for hunters in access, wildlife management and conservation policy issues. MDF acknowledges regulated hunting as a viable management component and is committed to recruitment and retention of youth into the shooting sports and conservation.
Get involved at www.MuleDeer.org or call 1-888-375-3337.