Jason gives us his advice on the best five shotgun sights that have brought him success in the field.

New York –-(Ammoland.com)- Shotguns: A powder burning, quacksmackin, rackstackin, trusted, ally of the wild.
A classic sportsman's tool, versatile enough to take big and small game.
From steel to lead, for many, a shotgun receives more attention than any other gun in their cabinet. (AR15 fans scream in 1, 2, 3)
For some, it is the only gun in their cabinet. Regardless, shotguns provide choices beyond just the ability to chase different game but give you the ability to choose different aiming systems to hone in on your target. As you gear up this season, consider these fine sight systems to make your shots count.
Here are my picks for five of the best shotgun sights that I have had great luck with in the field:
Dead Ringer Shotgun Sights
Nikon Slug Hunter Shotgun Scope
TruGlo Pro Series Magnum Gobble-Dot Sights
Hawke Optics 1×25 Red Dot Sight
Weaver 40/44 Shotgun Scope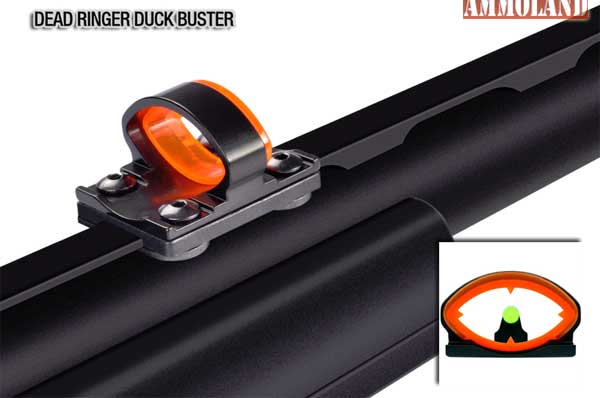 Flying targets for anyone not used to the habits of follow through in wing shooting shoot behind the bird constantly. It is a common problem, everyone has worked through that phase. But half the battle is even realizing when you touch your finger to the trigger, the bird is nowhere near where your barrel is actually pointed. We all have burned through a box or more just to arrive at this conclusion.
"The rear oval sight has been designed with the perfect built-in lead; if the bird's wings are horizontally touching the right and left compass points, you can rest assured that it is approximately 30-35 yards away, which is inside the kill zone range of most shotguns."

"The base is made of T-6 aircraft-grade aluminum; the orange ring is molded from optical Lexan and incorporates large compass points for trouble-free viewing and easy target acquisition. This sight is fully adjustable for windage and elevation."
The Dead Ringer Shotgun Sights are great little tools to help keep your head down on the gun during crunch time. The oval design allows you to find your target quickly and help you build proper shooting habits.
Slug guns, a term synonymous with old Eastern hunters. For those of us who didn't grow up in rifle legal areas, the old slug guns were painful reminders, of the tradition of the gun season. Old smooth bore pump guns and lead slugs hit deer like a sledge hammer. I have the old slug gun to thank for many filled freezers and filled wall space. While many hunters preferred to hunt with open sights, I still love having a scope on my slug gun.
Nikon is a respected name in optics and their Nikon Slug Hunter Shotgun Scope is built to withstand the recoil of a slug gun.
"Now "slug gun" and "long range" can be mentioned in the same breath. The SlugHunter 3-9×40 puts you in lethal range from as far as 200 yards out. The perfect match for today's powerful slug loads, the compact SlugHunter 3-9×40 features Nikon's BDC 200 reticle, offers five Inch of constant eye relief throughout the magnification range, integrates precision 1/4–inch adjustments with Spring-Loaded Zero-Reset Turrets, quick focus eyepiece and fully multicoated optics for maximum light transmission."

"The SlugHunter BDC 200 reticle can be fully optimized to match the drop of virtually any sabot load with Spot On Ballistic Match Technology."
Also to note: Slug guns are also great for tight situation hunting. While everyone is trying to stretch the distance on slug guns, don't forget their practical use in thick cover, If you need to hunt thick stands of timber with lower light, the Slug Hunter optics gather up to 92% light transmission, a well-desired trait on those overcast days.
PS: Do not forget to get the proper scope rings.
Do you like using your old iron sights for deer? Well, at least add some light to the classic aiming system. TruGlo offers a Pro Series of front and rear iron sight fiber optics.
"All-steel construction. Securely mounts to your rib without tape or magnets. Extremely bright in low-light conditions. Full windage and elevation adjustment. Front diameter is .029 inch, rear diameter is .035 inch. Made in the USA."
The all steel construction is easily adjusted for sighting in on the range and holds TruGlo's reputable fiber optics.
Red Dot scopes are popular sights for their uniqueness and speedy target acquisition. Hawke Sport Optics produce a 1×25 Red Dot with 11 brightness settings perfect for using shotguns in tight quarters on moving deer.
Red illuminated 4 M.O.A Dot with 11 brightness settings.
Quick target acquisition, fixed focus & unlimited eye relief. Simply Point & Shoot.

Key Features:

Unlimited eye relief
25 layer multi-coated optics
Designed for quick target acquisition
Fixed focus enables use on pistols, shotguns and bows

Additional Features:
4 M.O.A red dot with 11 brightness settings
25mm Tube Ring Mounts – 9-11mm Rail
Wide screen sighting device for air gun 22s & paintball guns
Waterproof, shockproof and fog proof
Hawke® 1yr warranty
The Hawke Optics 1×25 Red Dot Sight is waterproof, shockproof and fog proof. Red Dot scopes also give you the chance to focus on one spot as you pull your gun up instead of worrying about a multi-tiered reticle on a moving deer.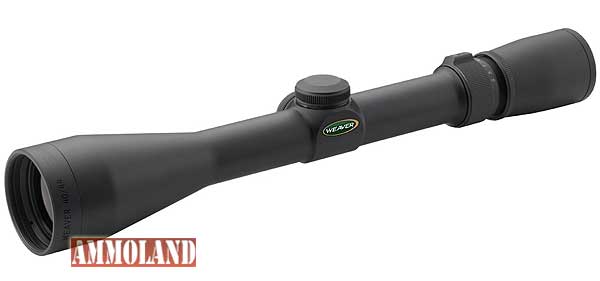 Weaver scopes always will hold a special place for me, my father has an old fixed Weaver scope on his old slug gun and has been faithful for many years. To round out this top five, the 40/44 single tube design offers the simplicity slug gun users need. The fully multi-coated lenses provide protection for brush busting and a simple reticle to get the job done.
"Engineered to handle the aggressive recoil of shotguns, muzzleloaders and rifles, the Weaver 40/44 series scopes have a low-profile, 32mm objective, one-piece tube construction and fully multi-coated lenses for sharp, bright images."

"These scopes utilize a magnification range of 2-7, and are available with either a Dual-X or Ballistic-X reticles. Our high-quality, accurate and attractive scopes are an excelled addition to any firearm. Weaver's dedicated shotgun and muzzleloader scopes are engineered specifically for the unique performance of these firearms and give hunters maximum performance out of these short to medium-range guns."
While most of the attention is placed on rifles nowadays, shotguns should not be forgotten. In today's marketplace, with a good set of new shotgun sights, you can take the old shotgun and revitalize it into an efficient, slick looking tool for marksmanship.
About Jason Reid:
Jason Reid is a writer and business professional from upstate New York. After deciding to pursue his dream of becoming an outdoor writer, Jason started a blog from his dorm room at Houghton College, growing it and working hard to earn opportunities. While bowhunting big game is his ultimate passion, Jason welcomes all outdoor challenges which force him to push his limits. More of Jason's work can be viewed on his website Pushingthewildlimits.com
---
AmmoLand Editor Comments:  This article was updated to reflect changes in product improvements/availability on 07/26/2017.