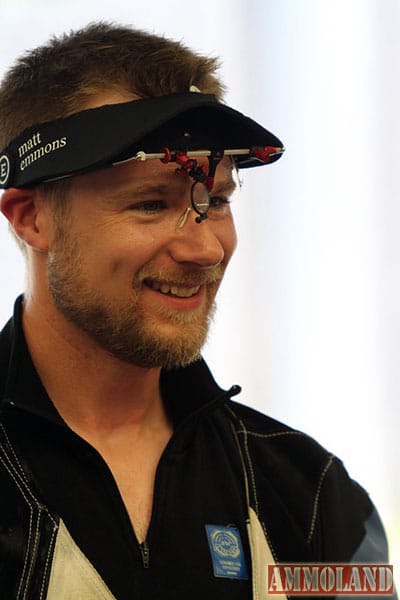 Fort Benning, GA -(Ammoland.com)- Matt Emmons won a gold and silver medal last month at the first International Shooting Sports Federation (ISSF) Rifle/Pistol World Cup of the year in Changwon, South Korea.
Today he completed that set with a bronze-medal win in Men's Three-Position Rifle on the final day of World Cup USA. Emmons (Browns Mills, New Jersey, pictured top) qualified for the Final with a score of 1178.
"Things have just been up and down," Emmons said. "That's how kneeling has been all year…Today though, I had some stability, my hold was pretty good so I was able to work with it, got through kneeling and it was like 'I'm in the game.' Prone was good – had a great prone section. Got into standing and struggled a little bit compared to what I'm used to, but then got back on my game and had a good last series."
The now 27-time World Cup medalist battled Qinan Zhu of China throughout the match. Emmons struggled through the kneeling stage once again, but by the conclusion of the prone series, Emmons had climbed into second place. An unlucky final shot of 8.9 in the single-shot, standing series would eliminate Emmons in the bronze-medal position.
"In the Final, kneeling was good; not the best I could ever do, but nothing crazy," he said. "The prone part – that got me back up into the running and into the medals. First string of standing was great, then kind of faltered a little bit after that. Was still taking good shots, but they just weren't going in. To end up with third place – any time I can end up on the podium, I'm happy."
Zhu wound up winning the silver, but it would be Yuriy Yurkov of Kazakhstan in his first-ever World Cup Final appearance that would claim the gold medal.
George Norton (Salinas, Kansas) of the U.S. Army Marksmanship Unit would finish in 27th place with a score of 1164 and Dempster Christenson (Sioux Falls, South Dakota) would finish in 36th place with a score of 1162.
Hear more from Emmons in his interview below or here: http://youtu.be/Bbi4VfooQK8?t=2s.
Will Brown (Twin Falls, Idaho, pictured bottom) qualified for the Men's Air Pistol Final with a score of 581. In the tenth shot of the Final, he would tie with Ismail Keles of Turkey. Brown lost the shootoff to Keles and was eliminated in the seventh position.
Nick Mowrer (Butte, Montana) shot a score of 578 to finish in 20th place and Jay Shi (Phoenix, Arizona) shot a 577 to finish in 29th place.
2012 Olympic gold medalist Jongoh Jin of South Korea won the gold medal in Men's Air Pistol. Vladimir Isakov of Russia won the silver and Joao Costa of Portugal won the bronze.
More than 600 shooters from 76 countries competed in World Cup USA, which began on May 11. In addition to Emmons' bronze-medal win, the other U.S. medal was gold for Michael McPhail (USAMU/Darlington, Wisconsin) in Men's Prone Rifle. He, Sarah Beard (Danville, Indiana), James Henderson (USAMU/Midland, Georgia) and Amy Sowash (Richmond, Kentucky) all won Olympic quotas for the U.S. for the upcoming 2016 Olympic Games in Rio de Janeiro, Brazil. A quota spot is essentially the entry ticket necessary for a country to compete in Olympic competition in a particular discipline. USA Shooting athletes winning Olympic quotas will still have to earn the right to compete in the Olympic Games separately.
More information on selection procedures and quotas for 2015 World Cups and the 2016 Olympic Games can be found here.
Next up for the Rifle and Pistol athletes of the USA Shooting Team is the ISSF World Cup in Munich, Germany, which runs May 26 – June 2.
View complete results from the 2015 World Cup USA here: http://www.issf-sports.org/media/calendar/2015/1694/completeresult/WC%20RP%20USA%202015%20Results%20Book.pdf.
About ELEY
ELEY is a Proud Sponsor of the USA Shooting Rifle and Pistol Teams: ELEY Limited, manufacturer of the world's most consistently accurate rimfire ammunition, has been the Official Sponsor and Official Supplier of .22 rimfire ammunition of the USA Shooting rifle and pistol teams since 2000.
For more information on ELEY and their products, please visit www.eley.co.uk.
About USA Shooting
USA Shooting, a 501c3 non-profit corporation, was chartered by the United States Olympic Committee as the National Governing Body for the sport of shooting in April 1995. USA Shooting's mission is to prepare American athletes to win Olympic medals, promote the shooting sports throughout the U.S. and govern the conduct of international shooting in the country.
Check us out on the web at usashooting.org and on Twitter at twitter.com/USAShooting.