By Norman Gray, POMA Member

The Varmints never hear it coming!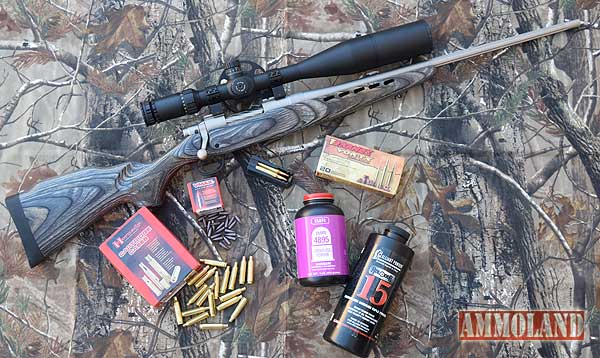 Arizona -(Ammoland.com)- Many summers ago as a young boy, social networking simply meant getting in the family car, driving across country and ending up at the family picnic that was held each summer.
But what made it all worthwhile was watching my two uncle's debate for what seemed like hours on the speed of the bullets fired from their 22-250 Remington and 220 Swift rifles.
Knowing what I know now, I'm thinking it would have ended everyone's misery sooner if they had just ran them through a ballistic chronograph.
But then again, I wouldn't have these fond childhood memories to speak of and it was those events and others like them that incited my lifelong love of firearms.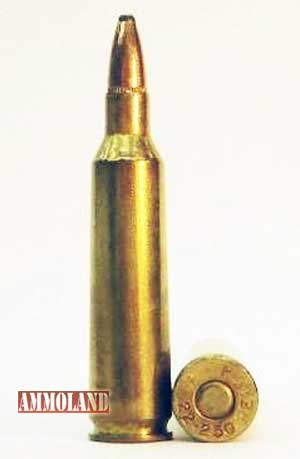 Today those arguments are a moot point since I can just fire ten rounds and lay to rest those nagging questions about cartridge velocities. In this writer's humble opinion it already been resolved by the many sportsman who use the 22-250 Remington in the field every day.
You have only to go to your local gun shop or sporting goods store and examine the shelves to see what caliber dominates the shelves.
Sure there are new varmint calibers flooding the market every year, but the 22-250 Remington still holds its own. That's simply because of the vast choices of manufactured ammo and its re-loading flexibility with the many types of bullets and powders on the market.
The 22-250 Remington has an interesting past that dates back to 1915 and its parent cartridge the 250-3000 Savage. Unfortunately there has also developed a blur in history about the original date of origin of the first 22-250 cartridge. Harvey Donaldson, Grosvenor Wotkyns, J.E. Gebby, J.B. Smith and John Sweany all worked on versions of the 22-250. J.B. Gebby and J.B. Smith are commonly credited with present configuration in 1937. What made it confusing was the different versions of the 22-250 that existed then, Gebby's version was named the .22 Varminter and he held a copyright on that name. The Wotkyns cartridge was the forerunner to the 220 Swift and Winchester used the 6mm Lee Navy case rather than the 250 Savage for their version.
So we may never know who is wholly responsible for the 22-250 Remington cartridge, but I expect to see it for many more years to come.
In the end, time washed out most others, but firearms manufacturers know the 22-250 sells rifles. In fact it's so popular that all American, English and European firearms manufacturers have at least one model chambered in the 22-250 Remington in their inventory.
Of course the cartridge is nothing without a delivery system to send it on its way and Mossberg's 4×4 Rifle does this job quite well.
Now I have always been a fan of beautiful wood stocks and gun metal, so it was only natural that the laminate stock and marinecoat configuration of the Mossberg 4×4 caught my eye. Polymer and stainless have their place, especially in rough and wet environments, but these two esthetic features combined with the Hawke Optics matt black Sidewinder 30 SF 8-32×56 SR Pro made for a work of art you can hunt with. But not to worry, if you are a fan of the conventional walnut or black synthetic stocks and matt blue finish, they have that too.
My sample 4×4 starts with a 24" brushed nickel fluted barrel and free floats it in their laminate stock. This barrel has a 1:14 inch twist rate for stabilizing bullets from 50 grains and up and Mossberg also offers you the choice of a 1:10 and 1:9.5 twist. The purpose of the fluting is to lighten the barrels weight slightly and to aid in cooling during extended firing sessions. The muzzle crown is recessed to give your rifle the most protection possible in the field, so if dropped on the muzzle it will help protect your accuracy.
The stocks forend has five vent holes strategically placed on both sides to aid in barrel cooling as well as checkering for a positive grip with or without gloves.
The stock is very ergonomically cut to feel good in your hands and the rear of the stock has a cheek rest built in to raise your head for use with optics. It is completed with a well fitted recoil pad and two black sling studs.
The 4×4's action is right handed and controls are simple and easy to reach with the shooting hand. We start with Mossberg's LBA (Lighting Bolt Action) trigger system which allows the shooter to adjust the trigger pull from 2 to 7 pounds. This is a great feature for long distance shooting and allows you to focus on the target not the trigger pull. The trigger is factory set to two pounds and is crisp and short and greatly enhances the shooters experience in the field or range. The trigger guard is generous enough for a gloved hand to operate the trigger. At the rear of the bolt on the right side is the safety lever, a small red dot is exposed when the lever is forward indicating FIRE and to the rear it is covered indicating SAFE.  The left side is where the bolt release lever is located and is protected from accidental release by a shield that extends off the rear of the bolt.
To release the bolt, drop the magazine and clear the rifle of any live ammunition and while retracting the bolt press the bolt release lever and remove the bolt, and to replace it just reverse the operation. Also on the rear of the bolt is a cocking indicator, when the round flat end of the striker is flush with the end of the bolt it's cocked and when it is recessed it's un-cocked. The top of the receiver is drilled and tapped to accept weaver style mounts and rings and does not come with any factory sights. At the bottom of the rifle in front of the detachable 5 round magazine is the magazine release lever, simply pull forward and the magazine will drop free. With one round in the chamber the total capacity is 5+1 rounds were allowed by law.
Hawkes Sidewinder 30 SF 8-32×56 SR Pro
With a varmint rifle capable of shooting a 55 grain bullet almost 4000 feet per second out to ranges of 200 yards and beyond, great optics are not necessary there mandatory. I learned early about the value of a high quality optics in Sniper School and when varmint shooting this is where great glass proves its worth. I worked with Hawke Optics to find the perfect long distance scope that would allow me to wring out the full potential of the 22-250 cartridge.  I choose their new Sidewinder 30 SF 8-32×56 SR Pro for many reasons but my top five were, magnification, illuminated reticle, 4" side wheel for parallax adjustment, adjustable sniper style turrets and the Ballistic Recital Calculator software.
There are so many great features built into Hawkes Sidewinder 30 SF 8-32×56 SR Pro but using it with the Mossberg 4×4 for varmint hunting, magnification was my first concern. 8x to 32x magnification gives you all the power you will ever need at whatever range you feel comfortable engaging your target. And with their clear 30mm body and high quality optical system with Fully Multi-Coated glass, you get a sharp, bright and high resolution viewing in all light conditions. The lens configurations offers optimum performance in low light conditions and gives excellent range finding properties. The illuminated reticle offers five red and five green setting that provide you with dawn to dusk illumination to help place that bullet on target.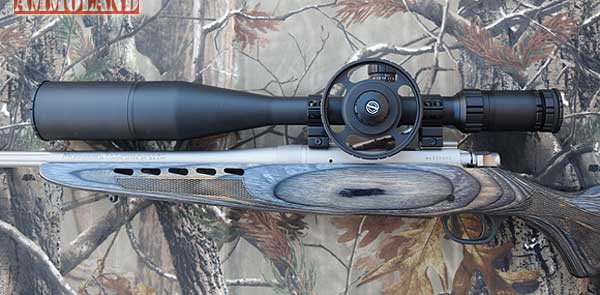 The Sidewinder features a large side focusing wheel designed to parallax from 10 yds. to infinity and is easy to adjust in the field. The easy to read turrets allow for fast windage and elevation adjustments. After you zero the scope to your favorite load you can return the turrets to zero by simply loosening the hex screw and pulling up on the turrets, turning to zero and push down and re-tighten the hex screw with the provided Allen wrench. As an added feature Hawke provides free to their customers the BRC or Ballistic Reticle Calculator. Simple download to your laptop, tablet or smartphone and enter your variables and apply them to your targets. The BRC accommodates 18 different Hawke reticles, the Sidewinder 30 SF 8-32×56 SR Pro reticles being one of them. The scope retails for $549.99 and you can purchase optional accessories such as flip up covers and a honey comb sunshade.
Shooting the Mossberg 4×4 Rifle
Shooting the Mossberg 4×4 was very pleasant as the 22-250 is not a hard recoiling cartridge. The rifles combined weight with the Hawke Sidewinder 30 SF 8-32×56 SR Pro and five rounds of ammunition comes in at 10.5 lbs. Since most varmint hunting is done from a stationary position the weight makes the rifle more stable for longer distance shots.
While shooting at the range I often found someone was watching me shoot my groups. The first thing they usually said was how beautiful a setup it was and jumped at the chance to shoot it when I offered.
I never experienced a single ammunition related stoppage or rifle malfunction during the testing and I fired over 100 rounds thru the Mossberg 4×4 without cleaning it. Hawke's optics also performed as expected and made hitting steel varmint targets out to 200 yards a breeze.
Overall I was very pleased with fit and finish. Mossberg spiral cut the bolt, also known as bolt flutes and this offers a very nice esthetic touch to the rifle. As time rolled on the bolt became more fluid and smoothed out nicely, something I can imagine will get better with age and use. As I said earlier I appreciate a great trigger pull and at two pounds it makes each shot better than the last.
This is a rifle that you can not only be proud to own, but with proper care will serve your shooting and hunting needs for many years. And you need not worry about the humble 22-250 Remington going the way of the dodo.
---
RCBS X Die Full Length Die Set

RCBS X Die Full Length Die Set : http://goo.gl/d988hA

Something I feel is worth honorable mention in conjunction with this article and providing you shoot a lot of rifles cartridges and hate trimming them because it slows down the re-loading process, this may be for you. This is taken from the RCBS website and helps describe the process: Trim a bottleneck case once—and never trim again with the RCBS X Die Full Length Die Set, which includes an X Die Sizer and Standard Seater Die. The sizer features a specially designed mandrel with an expander ball and decapping pin attached. The patented design eliminates the need for repeated trimming after an initial trim of .020 inch off the maximum length to standardize the case.

The X Die doesn't shorten the length of the case: The mandrel reduces the growth caused by the case mouth contacting the mandrel during sizing. Because of an extremely close tolerance between the mandrel and die neck wall, the neck wall of the case does not thicken as the case length is pushed back. Cases repeatedly sized in the X-Die will initially grow a few thousandths of an inch, and then stabilize below the maximum case length with no discernible loss of accuracy or case life. Note: Reloaders who already own a regular set of dies for the chosen caliber need only order the X Die Full Length Sizer.
---
ACCURACY RESULTS | FACTORY LOADS | 22-250 REMINGTON
MANUFACTURER:  WEIGHT/BULLET TYPE:  VELOCITY:  SD:  GROUP @ 100 Yds.
American Eagle            50 Gr. JHP        3756        18    1.25"
Barnes VOR-TX            50 Gr. FB        3845        20    1.10"
DoubleTap            55 Gr. Nosler BT    3874        32    2.11"
Hornady            55 Gr. V-MAX        3143        32    1.13"
Notes: Accuracy results are from three – three shot groups at 100 yds. from a Caldwell Matrix rest. Velocities figures are from 10 shots fired through a CED M2 chronograph placed 15 feet from the muzzle. Abbreviations: JHP: Jacketed Hollow Point, BT: Ballistic Tip, FB: Flat
MOSSBERG 4X4: 22-250 REMINGTON   
TYPE: Bolt Action
CALIBER: 22-250 Remington (Tested) Six Long-Action Calibers from .25-06 Rem. to .338 Win. Mag.; Four Short-Action Calibers from .22-250 Rem. to .308 Win.; and Three Short Magnum Calibers: .270 WSM, 7mm WSM and .300 WSM.
CAPACITY: Five round magazine
BARREL: 24" fluted
TWIST: 1:14
OVERALL LENGTH: 46"
WEIGHT: 7.5 lbs.
FINISH: Marinecote
SIGHTS: None provided, accepts Weaver style base and rings
SCOPE: None
TRIGGER: LBA Lightning Bolt Action Adjustable Trigger
TRIGGER PULL: 3 lbs.
SAFETY: Manuel
STOCK: Laminate classic style
LENGTH OF PULL: 13.25
PRICE: $693.00
MANUFACTURER: O.F. Mossberg & Sons, Inc. 7 Grasso Ave. North Haven, CT 06473 Telephone: (203) 230-5300 (8 a.m. – 4:30 p.m. E.S.T.) Fax: (203) 230-5420 For Service Inquiries: 800-363-3555 .
SOURCES:
O.F. Mossberg & Sons, Inc.        www.mossberg.com
American Eagle                www.federalpremium.com
Barnes Bullets                www.barnesbullets.com
DoubleTap Ammunition            www.doubletapammo.net
Hawke Optics                www.hawkeoptics.com
Hornady                www.hornady.com
RCBS                    www.rcbs.com
Mossberg 4X4 Rifle Manual PDF: Mossberg 4×4-Bolt-Action-Centerfire-Rifle Manual
About Norman Gray
Norman Gray has been involved in the shooting sports for well over 30 years. He has served in both active duty and reserve component of the United States Army as an Infantryman and was honorably discharged at the end of his service. Moving to Arizona, he began assisting his long time friend and mentor Bob Shell, an accomplished writer and author in his own right. Norman is freelance contributor with Handguns Magazine, Canadian Firearms Journal and Manzano Valley Outdoors. He is also a member of (POMA) The Professional Outdoor Media Association, the (NSSF) National Shooting Sports Foundation and a Life Member of the (NRA) National Rifle Association. Visit: http://www.unleaded-ink.blogspot.com/