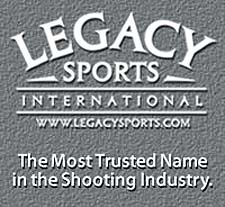 Reno, NV -(AmmoLand.com)- Gene Lumsden, CEO of Legacy Sports International, Inc. proudly announces the complete transition from Muddy Girl camo to the new Foxy Woods camo by Thunder Mountain Camo.
The new Foxy Woods camo is available on the Howa line of bolt action rifles and the Escort line of semi-auto shotguns. Foxy Woods is an updated, 3D version of classic fall camouflage colors with flair.
The Foxy Woods camo pattern combines realistic oak trees, leaves and acorns as well as hot pink shades that make this like no other pink camo pattern on the market. In the Howa line of rifles, Foxy Woods is available as a rifle, only, or as a package with a Nikko Stirling Gameking 3.5-10×44 1" body with illuminated LRX reticle. Howa rifles and packages are offered in 22" hunting barrels with adult stock (13.87" LOP), 20" lightweight barrels with adult stock and 20" lightweight barrel with youth stock (12.62" LOP).
Escort semi-auto shotguns are also available in Foxy Woods camo in the Escort Youth configuration with 22" barrel, 13" LOP and TRIO recoil pad. This model comes in either right-handed OR left-handed models at the same price. Foxy woods is also available in a Ladies Model with 26" barrel and the same stock length and recoil pad as the Youth model.
These are all fun guns to shoot and are extremely accurate and easy to handle.
For more information contact: Rick Homme • Legacy Sports International, Inc. • 775-828-0555 or [email protected]
About Legacy Sports International, Inc.
Legacy Sports International is known to be the importer and distributor of the finest "out of the box" firearms for America and the world.
For more information, visit: www.legacysports.com.