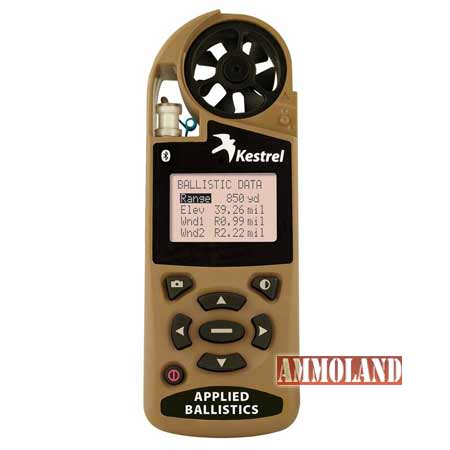 Cedar Springs, Mich. -(Ammoland.com)- Applied Ballistics is excited to announce that through their existing partnership with Nielsen-Kellerman (NK), creators and manufacturers of Kestrel Weather & Environmental Meters, that the Kestrel Weather & Environmental Meters with Applied Ballistics has been selected by Marine Corps System Command to provide the material solution for the Scout Sniper Ballistic Computers (SSBC) program.
"The long-standing relationship between Applied Ballistics and Kestrel has allowed us to continue to proactively support Marine Corps Scout Snipers with some of the most trusted environmental weather meters and ballistics software in one package," stated Applied Ballistics President, Bryan Litz.

"The Kestrel 4500 with Applied Ballistics, which was selected on this contract, is further proof that we are constantly working to develop innovative and effective solutions that help keep our warfighters safe. We are honored to be working with the team at Nielsen-Kellerman to continue to provide these solutions to those who put themselves in harm's way."
The Kestrel 4500 with Applied Ballistics is a 4-ounce, hand-held meter that combines accurate wind, direction, temperature, pressure and humidity readings with a built-in advanced ballistics calculator and bullet performance database. The Kestrel makes use of the Applied Ballistics library of tested bullet BC's and custom drag models for over 500 bullets, and outputs elevation and wind holds calculated for the precise weapon, round and target characteristics, allowing snipers to put first shots on target at 1000 yards and beyond.
The 887 Kestrel meters purchased will be supplied in a complete field support kit containing the following:
Kestrel Shooter's Weather Meter with Applied Ballistics ITAR Desert Tan Tactical
Kestrel 4000 Series Screen Protection Kit
Pelican 1015 Black Case
Mystery Ranch Molle Soft Case
All Kestrel Weather Meters are designed and built in Pennsylvania, and the Kestrel Kit selected for this contract award is fully Berry Amendment and BUY American Act compliant. Broader adoption of the Kestrel with Applied Ballistics is anticipated as other services are presently evaluating its performance and capabilities.
About Applied Ballistics:
Applied Ballistics was founded in 2009 by Bryan Litz; with the mission to be the complete and unbiased source of external ballistics information for long-range shooters.  We believe in the scientific method and promote mastery thru understanding of the fundamentals. Our work is passed on to the shooting community in the form of instructional materials, which are easy to understand, and products such as ballistic software, which runs on many platforms   The Professional activities supported by Applied Ballistics are broad.  From ballistic software integration to training seminars, Applied Ballistics has the depth to support the needs of todays' military and law enforcement professionals with state of the art information and kit.  Applied Ballistics partner Accuracy 1st is run by the US's leading sniper instructor Todd Hodnett.  Principal Engineer Nick Vitalbo leads the engineering team in the development of cutting edge products designed to help professional shooters accomplish their mission by leveraging the science of accuracy.
About Nielsen-Kellerman Co.:

All Kestrel Ballistics Weather Meters are small, lightweight, extremely rugged and easy-to-use. They are not only built to military standards, but have proven their reliability over years in the field. Every Kestrel meter is designed, developed, built, tested and supported in the USA.