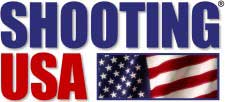 Nashville, TN -(AmmoLand.com)- Shooting USA – IDPA Back Up Gun Nationals 2014:
It's the match for real carry guns. The pros, new shooters, and Smith & Wesson executives, take on real life, self-defense scenarios at the IDPA Back Up Gun Nationals.
Plus, the 1874 Sharps is one of History's Guns. And, we return to an earlier time for a National Championship that's preserving our history, the National Muzzleloading Rifle Association's Fall Shoot in Friendship.
Shooting USA's Impossible Shots – Get the Lead Out:
Byron Ferguson is challenged by the Write Way to Shoot, with a pencil as his target. First clipping off just the eraser, then changing ends to just cut the tip of the sharpened lead. Then Master Gunfighter, Cisko, tries the classic El Prez drill for record time, but with his two six-guns instead of the traditional autoloader mag change. How fast can the El Prez be done with two draws instead of one?
AIR TIMES BY TIME ZONE
The Shooting USA Hour Wednesday:
Eastern Time: 3:00PM, 9:00PM, 12:30 AM Thursday
Central Time: 2:00 PM, 8:00 PM, 11:30 PM
Mountain Time: 1:00 PM, 7:00 PM, 10:30 PM
Pacific Time: 12:00 Noon, 6:00 PM, 9:30 PM
Shooting USA is listed as a one-hour show in your cable menu.
Shooting USA's Impossible Shots:
Wednesday:
Eastern Time: 1:00 PM, 11:30 PM, 3:00 AM Thursday
Central Time: 12:00 Noon, 10:30 PM, 2:00 AM Thursday
Mountain Time: 11:00 AM, 9:30 PM, 1:00 AM Thursday
Pacific Time: 10:00 AM, 8:30 PM, 12:00 Midnight
Sig Sauer Academy
John and the crew are off to one of the most distinguished training facilities for law enforcement and military: the Sig Sauer Academy in New Hampshire. They'll be working with top instructors to produce new Pro Tips for you on Shooting USA. Stay tuned!
Stay Connected
Be sure to "Like" Shooting USA on Facebook for behind the scenes action: https://www.facebook.com/JimScoutten.ShootingUSA
And, on Instagram!
https://instagram.com/shootingusa/
About Shooting USA
Jim Scoutten, America's Most Watched Firearms Reporter, has been on the beat for 14 years, reporting the stories of the Shooting Sports and the firearms Industry. The show produces a series of popular segments focusing on historical guns, the personalities in the sport and industry, insider reports from gun tests, and practical tips from shooting sports pros. The show appeals to shooting sports enthusiasts of all ages and skill levels by providing practical tips on safely handling, modifying and repairing their favorite guns.
For more information, please visit www.ShootingUSA.com.