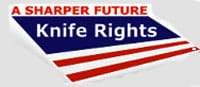 Gilbert, AZ –-(Ammoland.com)- Knife Rights would like to congratulate knife dealer Joshua Burbank who had the courage of his convictions, defending his right to possess and sell perfectly legal knives in Massachusetts.
Over a two-year ordeal, he steadfastly refused to be intimidated by abusive law enforcement and prosecutors after an off-duty Hubbarston, MA police officer improperly seized over 50 balisong (butterfly) knives and then a week later when asked to return the property, responded by charging him with sales and possession of dangerous weapons. Possession and sale of Balisong knives is not illegal under Massachusetts law.
While the possession charge was quickly dismissed by the Magistrate, the more vaguely worded sales of "dangerous weapons" charge was allowed to stand. Burbank went to trial, during which the District Attorney attempted to make a point, so to speak, by outrageously demanding that the witnesses, the arresting officer, an expert for the defense and Burbank himself, insert an open and locked 4-inch bladed balisong into their front pocket point down, endangering themselves in the process. While the others apparently complied, if somewhat nervously according the Burbank, Burbank refused, and rightly so in our opinion.
He reportedly told the judge that "someone would have to be insane to do that… because it risked injury," making the DA appear even more foolish in the eyes of the court.
Ultimately, Burbank was found "not guilty" by the jury and he was able to get back his seized knives. Burbank has subsequently filed suit in Federal court seeking to recover the costs incurred in his defense as well as damages he believes he is owed and additional punitive damages for the unjust malicious prosecution to which he was subjected.
Knife Rights has been fighting all over the United States to reform knife laws because, as this case exemplifies, the way knife laws are written really makes a difference, even more so when a person is unjustly charged with a crime. If the law clearly makes no particular knife illegal, which is always our ultimate goal, there is far less opportunity for a rogue officer or prosecutor to abuse the law against a citizen who has done nothing illegal. As worst, it is critical that any knives that are considered illegal under the law, whether it be possession, carry or concealed carry, be clearly defined in the law, otherwise abuse is likely.
About:
Knife Rights (www.KnifeRights.org) is America's Grassroots Knife Owners Organization, working towards a Sharper Future for all knife owners. Knife Rights is dedicated to providing knife owners an effective voice in public policy. Become a Knife Rights member and make a contribution to support the fight for your knife rights. Visit www.kniferights.org