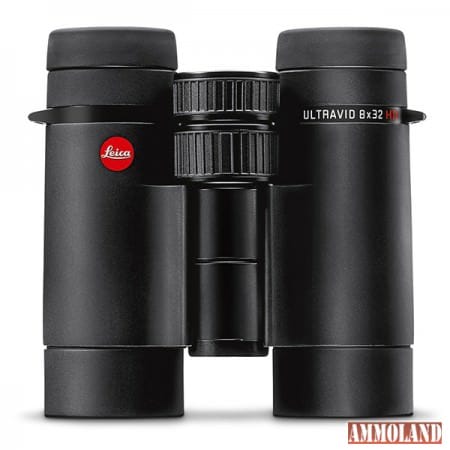 Allendale, NJ -(AmmoLand.com)- You now have until Nov. 15, 2015, to trade in your old pair of binoculars for a Leica Performance Reward check for up to $250 toward the purchase of the ultra-light, extremely strong and robust Leica Ultravid HD or Ultravid HD-Plus binoculars.
Leica has extended this trade-in program by one month, so you can still take part in this great deal! The sale must be through an authorized North American Leica retailer. The ultra-light, robust Ultravid HD models deliver images with excellent contrast in an easy-to-use ergonomic design.
Available in 50, 42 and 32 mm lens diameter models, Leica Ultravid HD binoculars produce the purest image quality possible via fluoride lens glass, which improves color fidelity and image contrast.
The AquaDura hydrophobic lens coating repels water and dirt ensuring a clear view even in poor weather conditions. The housing design's advanced technology virtually eliminates all stray light so that image brightness and quality is further enhanced. Working together, these features correct image errors and ensure clear visibility, setting new performance benchmarks.
The Ultravid HD-Plus binoculars, also available in 50, 42 and now 32 mm lens diameter models, boast new objective HD/HT glass elements to provide you with the brightest, most crystal clear images. The new glass for lenses and prisms, along with new proprietary coatings, provide for a significantly increased transmission of light. This increased transmission, particularly in the blue-violet band, allows for optimum viewing during low-light conditions. The prisms of the Ultravid HD-PLUS binoculars are made from specified and precisely formulated SCHOTT HT glasses, and are created using a new, high-temperature plasma coating process that deposits thin films of the highest-quality materials on the lens surface.
This process allows for increased performance and higher contrast with near-perfect image color.
Trade-In Performance Award Models:
8 and 10×32 Ultravid HD – $200
7, 8, and 10×42 Ultravid HD – $250
8, 10, and 12×50 Ultravid HD – $250
8 and 10×32 Ultravid HD-Plus (NEW!) – $200
7, 8, and 10×42 Ultravid HD-Plus – $250
8, 10, and 12×50 Ultravid HD-Plus – $250
For more information, check out http://touchpoint-management.com/leica/ultravidtrade-in.
For Leica Sport Optics press releases and high-res images, visit the Leica Sport Optics media room at http://www.touchpoint-management.com/leica.
About Leica Sport Optics:
Leica is a leading pioneer of high-performance sport optics. Legendary innovation, exceptional craftsmanship and brilliant optical performance define Leica's line of binoculars, spotting scopes, laser rangefinders and riflescopes.
For more information, please visit www.Leica-SportOptics.com.