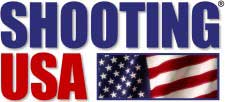 Nashville, TN -(AmmoLand.com)- Shooting USA – PALMA Long Range World Championship  
It's your first chance ever to see the world's oldest continuing rifle match. The PALMA World Championship is in the USA for the first time in 23 years and won't return for another 28 years. It's team competition at 800, 900 and 1,000 yards in the most unusual match you've likely ever seen.
Plus, the British Sea Service pistol is one of History's Guns. And, Hornady's discovery brings a breakthrough in accuracy.
Shooting USA's Impossible Shots – Sgt. Richmond's Speed 8
U.S. Army Marksman Josh Richmond is an Olympic competitor in Double Trap, but this week he honors one of the famous pro shooters who inspired him to take up the sport. Sergeant Richmond recreates one of Herb Parson's exhibition shots from the 1950s, eight birds from the low house as fast as they can be thrown. But then he takes it up to Impossible, shooting from the hip. Julie Golob is your host for this edition of Impossible Shots.
AIR TIMES BY TIME ZONE
The Shooting USA Hour Wednesday:
Eastern Time: 3:00PM, 9:00PM, 12:00 AM Thursday
Central Time: 2:00 PM, 8:00 PM, 11:00 PM
Mountain Time: 1:00 PM, 7:00 PM, 10:00 PM
Pacific Time: 12:00 Noon, 6:00 PM, 9:00 PM
Shooting USA is listed as a one-hour show in your cable menu.
Shooting USA's Impossible Shots:
Wednesday:
Eastern Time:  7:30 PM, 11:30 PM, 2:00 AM Thursday
Central Time:  6:30 PM, 10:30 PM, 1:00 AM Thursday
Mountain Time: 5:30 PM, 9:30 PM, 12:00 Midnight
Pacific Time: 4:30 PM, 8:30 PM, 11:00 PM
Exclusive NRA Membership Offer
For a limited time, you can become a Life Member of the NRA for $500. Shooting USA is offering an exclusive discount until December 31. NRA dues increase to $1,500 on January 1. Join today:
http://www.shootingusa.com/LATEST_UPDATES/NRA_news/NRA_Membership/nra_membership.html
Stay Connected
Be sure to "Like" Shooting USA on Facebook for behind-the-scenes coverage: https://www.facebook.com/JimScoutten.ShootingUSA
And, on Instagram!
https://instagram.com/shootingusa
Jim
Defending the 2nd by Example in the 22st Year
[email protected]
About Shooting USA:
Jim Scoutten, America's Most Watched Firearms Reporter, has been on the beat for 14 years, reporting the stories of the Shooting Sports and the firearms Industry. The show produces a series of popular segments focusing on historical guns, the personalities in the sport and industry, insider reports from gun tests, and practical tips from shooting sports pros. The show appeals to shooting sports enthusiasts of all ages and skill levels by providing practical tips on safely handling, modifying and repairing their favorite guns.
For more information, please visit www.ShootingUSA.com.