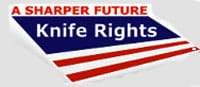 Gilbert, AZ -(AmmoLand.com)- Two companion bills, A 9042 and S 6483, have been introduced in New York that would add bias-towards closure language to the state switchblade and gravity knife definitions, sponsored by Assemblyman Dan Quart and Senator Diane Savino.
The bills clarify the definition of "Switchblade" and "Gravity Knife" by adding the exception, "does not include a knife that has a spring, detent, or other mechanism designed to create a bias toward closure and that requires exertion applied to the blade by hand, wrist, or arm to overcome the bias toward closure and open the knife."
These new bills, developed with Knife Rights' input, are a comprehensive solution, incorporating the language that was passed by Congress in 2009, with Knife Rights' support, amending the Federal Switchblade Act to prevent U.S. Customs from redefining switchblades to include one-hand opening and assisted-opening knives.
Last year and the year before, Assemblyman Quart's bills were passed by the Democratic controlled Assembly, but were not acted upon by the Republican controlled Senate. Those bills simply added a "criminal intent" requirement, but didn't change the definitions.
New York City's Village Voice newspaper found that over 60,000 people have been prosecuted for carrying common pocket knives in the city.
Knife Rights' civil rights lawsuit challenging these bogus arrests and prosecutions is scheduled for trial on April 29 after the Court of Appeals for the Second Circuit unanimously reversed the District Court's erroneous dismissal of the case on procedural "standing" grounds.
About Knife Rights:
Knife Rights is America's Grassroots Knife Owners Organization, working towards a Sharper Future for all knife owners. Knife Rights is dedicated to providing knife owners an effective voice in public policy. Become a Knife Rights member and make a contribution to support the fight for your knife rights.
For more information, visit www.KnifeRights.org.