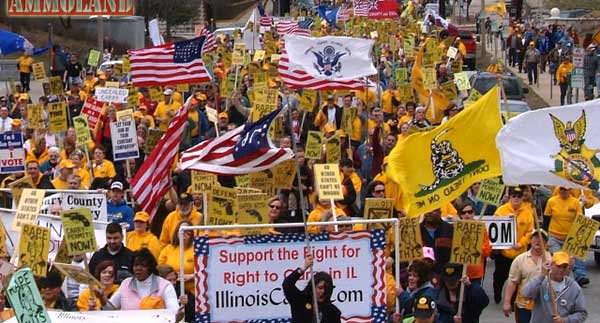 Springfield, IL -(AmmoLand.com)- Join your family of Second Amendment supporters, your friends, and fellow patriots.
Step into history and be the one to show your children and grandchildren the true American way to defend our Constitutional rights. Show by example how to exercise our right to address our elected officials and remind those we elect how we expect them to vote on our issues.
NO EXTRA TAXES on firearms and ammunition!
NO GUN FREE ZONES that leave us defenseless!
NO TERRORIST WATCH LIST made up of gun owners!
NO FIREARM REGISTRATION!
Come to IGOLD and March for:
LOWER LICENSE FEES!
CONCEALED CARRY ON MASS TRANSPORTATION!
CONCEAL CARRY IN PARKS, & REST AREAS!
CONCEALED CARRY WHILE HUNTING!
REPEAL THE FOID!
Calling All IGOLD Marshals!
If you are a seasoned IGOLD marshal from previous years or you are new to IGOLD and want to be an important part of the day, your expertise and experience are needed!
IGOLD marshals are the hands and feet of this very special day.  They are the friendly faces who greet you and help you find your way around the Capitol Complex. It takes many, many volunteers to help the event run smooth AND you get a free cap!!
If you would like to volunteer as an IGOLD marshal, please call Mickey Schuch at 815-690-00248.
IGOLD
Illinois Gun Owner Lobby Day

Wed. April 6, 2016

Prairie Capital Convention Center
Springfield, IL
IGOLD buses are lined up around the state, getting ready for the big trip to Springfield.  Reserve your seat now and avoid the long drive, traffic, and trying to find a parking space!  Enjoy the trip with friends!
IGOLD Charter Bus Pickup Locations
Reserve your seat online at IGOLD.isra.org or call 815-635-3198.
Aurora – $25
Lombard – $25
Chenoa – $25
Marion – $25
Chester* -$25
Mendota – $25
Country Club Hills – $25
Moline – $25
Dundee – $25
Mt.Vernon – $25
Effingham – donation
Mundelein – $25
Evergreen Park – $25
Normal – $25
Fairview Heights – $25
Palatine – $25
Grayslake – $25
Peoria – $25
Hodgkins – $25
Redbud* – $25
Joliet – $25
Rockford – $25
Litchfield – donation
Rosemont – $25
Vandalia – donation
Waterloo* -$25
Zion – $25
* Red Bud-Waterloo-Chester For reservations contact: Rick Hall, 618-317-1176.
GO TO WWW.IGOLD.ISRA.ORG TO RESERVE YOUR BUS SEAT NOW!
About Illinois Carry:
The IllinoisCarry forum was started in April 2004 as a grassroots online action and discussion forum dedicated to advancing the Right to Carry in IL. We fight the battle for freedom on three fronts: the legislative front, the judicial front, and the electoral front.  IllinoisCarry works closely with other organizations in Illinois that are working to protect our 2nd Amendment Rights. We encourage you to register on our forum and join the fight for your 2nd Amendment Rights in Illinois.
For more information, visit: www.IllinoisCarry.com.