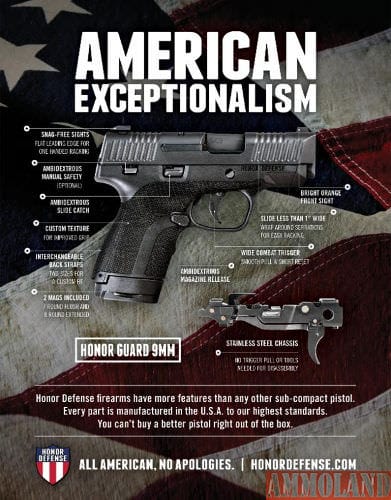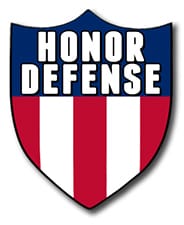 Atlanta, GA -(AmmoLand.com)- Honor Defense is proud to announce a line of firearms that are 100% made in the USA. While other companies buy parts from foreign companies or produce their pistols in other countries, Honor Defense keeps all production in America.
So proud, in fact, that Honor Defense has launched its new "All American, No Apologies" campaign. The goal is to let everyone know that all Honor Defense pistols are made in the USA and assembled by veterans in Gainesville, Georgia, USA.
"Like the majority of Americans, we are offended by people that apologize for being an American. If they are embarrassed or ashamed of the USA, we ask that they buy another brand of firearms," said Gary Ramey, President of Honor Defense.

"We only partner with American owned companies with an American workforce. We also asked for input from professionals that have carried a firearm for a living. People with backgrounds from DevGru/(Navy SEALS), DEA, Army, Law Enforcement and civilian training. The firearms are built with more features than any other pistol in the size class and are truly American."

Ramey adds, "We won't apologize for that."
Look for "All-American, No Apologies" advertisements and other marketing efforts in upcoming weeks and months.
HONOR GUARD 9mm Features:
Striker-fired design that can handle +P loads
Trigger has a wide face with a crisp 7lb pull
Short reset for quicker second shot and better control
Ambidextrous slide catch and magazine catch
Available with or without an ambidextrous manual safety lever
Modular system with stainless steel chassis
Custom texture design to provide better grip in all situations
Replaceable back straps to allow customization.
For more information, visit their Facebook page or website at www.honordefense.com.
About Honor Defense:
Honor Defense offers the finest American-made pistols-using only American partners and materials. Honor Defense pistols are built with more features and higher quality standards than other pistols in their size range. To create its pistols, Honor Defense secured input from a panel of professionals that have defended our nation or have extensive credentials in self-defense training.
For more information, please visit www.HonorDefense.com.