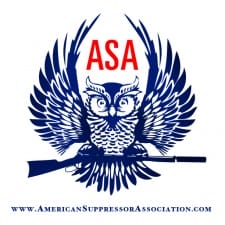 Washington, D.C. -(AmmoLand.com)- The American Suppressor Association (ASA) is pleased to announce the election of Laurie Aronson, CEO of Lipsey's, Brad Johnson, Chairman and CEO of United Sporting Companies, and Graham Hill, CEO of Ice Miller Strategies as the newest members of the ASA Board of Directors.
With their confirmation, the ASA Board has been expanded to 13 industry leading members, working together to advance the interests of the suppressor community.
"Our association is only as strong as our members, and the addition of Laurie, Brad, and Graham marks a tremendous strengthening of our already robust and diverse leadership," said Knox Williams, President and Executive Director of the ASA. "We are all very excited for the opportunity to work with these three industry leaders on our collective endeavor. Their experience and expertise will absolutely strengthen our ability to protect and expand pro-suppressor reform across the country."
Located in Baton Rouge, Lipsey's was originally formed as a wholesale hunting and fishing distributor in 1953. Today it is one of the nation's most prominent wholesale firearms distributors. The company, which sells exclusively to federally licensed dealers, has received a number of awards and accolades for its industry leadership. Moreover, Lipsey's is recognized for its dedicated team, excellent relationships with customers and top firearms manufacturers and exclusive product offerings.
United Sporting Companies (USC) is a leading nationwide distributor of hunting, outdoor and marine products. The company operates through two subsidiaries, Ellett Brothers and Jerry's Sport Center which were founded in 1933 and 1949, respectively. Providing the Industry's largest product selection of over 85,000 SKUs in combination with the endless support of the most knowledgeable sales force in the country, USC proudly and efficiently serves over 30,000 independent retail customers across all 50 states through sales offices and distribution centers in Chapin, SC, Newberry, SC, Pittston, PA, Downingtown, PA, Dayton, OH, Spring Hill, KS, Dallas, TX, and Sacramento, CA.
Founded in 1910, Ice Miller LLP is an Am Law 200 Firm with a nationally recognized reputation in many of its practice areas. Ice Miller offers a broad array of capabilities in virtually all areas of legal practice including: corporate, patents and trademarks, bankruptcy, lobbying, labor and employment, litigation, employee benefits, environment, tax, trusts and estates, real estate, municipal finance, public affairs and government law. With offices in Chicago; Cleveland; Columbus; DuPage County, Ill.; Indianapolis; New York; and Washington, D.C., the Firm has more than 300 lawyers and 40 paraprofessionals.
ABOUT THE AMERICAN SUPPRESSOR ASSOCIATION:
The American Suppressor Association (ASA) is the unified voice of the suppressor industry. Our mission is to unite and advocate for the common interests of suppressor manufacturers, distribu­tors, dealers, and consumers. To accomplish our mission, our principal initiatives focus on state lobbying, federal lobbying, public education, and industry outreach.
For more information on how you can join the ASA, and help protect and expand your right to own and use suppressors, please visit www.AmericanSuppressorAssociation.com.