Expands blaze orange styles and adds fluorescent pink options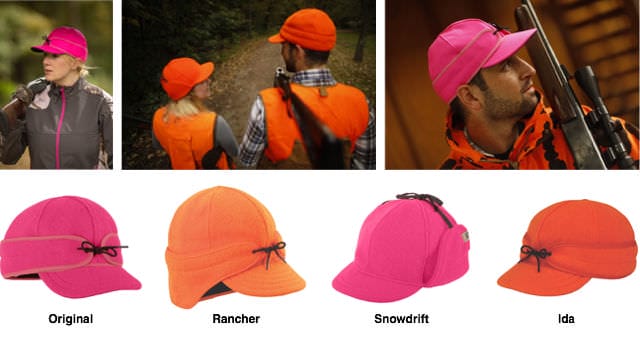 Ironwood, MI -(AmmoLand.com)- With Wisconsin, New York, Louisiana, and Colorado approving the use of pink blaze for the upcoming hunting season and a number of other states considering similar legislation, Stormy Kromer, the most recognizable hat brand in the world, has added fluorescent pink to its collection and expanded the styles it offers in blaze orange.
"Hunter safety is our top concern and by giving our customers a broader choice of colors and styles we hope to help keep them safer in the field," said Gina Thorsen, Stormy Kromer president.
Long before states mandated hunter safety colors, Stormy Kromer, founded in 1903, has been a favorite headwear choice among hunters due to its low profile crown and adjustable earband that can be pulled down to protect the ears from wind and cold temperatures.
The company has offered its Original cap and extra warm Rancher cap in blaze orange for years. This season fluorescent pink versions of these styles have been added along with blaze orange and fluorescent pink styles of its Ida Kromer cap and the new extra warm women's Snowdrift Cap.
The Ida Kromer is similar to the Stormy Kromer Original, but has a brim that is slightly shorter. The Snowdrift is a more feminine alternative to the Rancher. Like the Rancher the Snowdrift features Thinsulate insulation and lengthened earflaps for added warmth, however the Snowdrift's silhouette is a twist on the traditional trapper-style with tie-up earflaps.
The Original Stormy Kromer and Ida Kromer caps retail for $44.99 and the Rancher and Snowdrift caps retail for $49.99.
In February, Wisconsin became the first state in the country to adopt fluorescent pink as an alternative color to blaze orange for hunters. While Wisconsin law mandates that at least half of the clothing above the waist worn by gun deer hunters must be blaze orange or fluorescent pink, approved hunting color regulations across the country vary by jurisdiction, season, and game hunted.
The Stormy Kromer Blaze Collection is available online at www.stormykromer.com and at retailers nationwide. To find a local retailer visit www.stormykromer.com.
About Stormy Kromer:
Established in 1903, Stormy Kromer is an outdoor apparel company comprised of genuine, hardworking artisans who strive to provide classic, yet contemporary products with the same passion, purity and practicality as the first Stormy Kromer cap over a century ago. Located in Michigan's beautiful Upper Peninsula, today Stormy Kromer proudly continues its tradition of hand-crafting American made products and supporting American made jobs.
For more information, visit www.stormykromer.com.