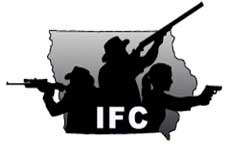 Iowa – -(Ammoland.com)- Iowans- There's no denying it. We did it. We flipped the Iowa Senate!
Our biggest roadblock has been removed. But as we told you last night this is merely the first step of the journey, albeit a huge first step. The next step is to take everything we've just done and cement it in minds of Iowa's legislators.
That's where you come into play.
Lawmakers will be meeting sooner than you probably realize, drawing up plans, committee assignments and establishing their priorities for 2017.
It's your job to make sure they know protecting and enhancing the Second Amendment is a central part of their job (and that we'll be holding them accountable for their actions).
We've just activated a brand new Advocacy Campaign. Its purpose is to make first contact with the legislators and remind them of what the election proved last night: if they want to keep their jobs they cannot afford to ignore Iowa's Second Amendment advocates.
NOTE: If your elected official is one of the ones who lost yesterday, feel free to drop a note to the leadership in each chamber. Just remember to keep it brief and respectful!
As we speak, Iowa Firearms Coalition's election work is making major waves throughout the capitol and the entire state. Iowa Public Radio has been reporting how we beat Steve Sodders. The Associated Press is spreading the word far and wide that IFC is already working on legislation for 2017. The best part about all this?
It. Is. All. True.
Stand Your Ground
Constitutional Carry
RKBA Constitutional Amendment
SBRs
Youth Shooting
Privacy Protection
Emergency Protection and more.
This is all on Iowa Firearms Coalition's to-do list. But it won't happen unless you help us make it absolutely crystal clear to Iowa's lawmakers that as soon as the 2017 legislative session opens they better be ready to work on pro-gun owner legislation. Use our Advocacy Campaign to let them know our expectations.
Thanks in advance for your advocacy and THANK YOU for supporting the Iowa Firearms Coalition!
About Iowa Firearms Coalition:
Iowa Firearms Coalition is an entirely volunteer, grassroots, Second Amendment advocacy group. Responsible for bringing uniformity to Iowa's Permit to Carry process, IFC's members work to protect and enhance Second Amendment rights in Iowa. An affiliate of the National Rifle Association, the IFC actively seeks to foster and promote the shooting sports. Sign up for our email list for the latest on Second Amendment issues in Iowa.
You can support our work by becoming a member, or making a donation.