USA -(Ammoland.com)- Texas Parks and Wildlife Foundation (TPWF) believes that enjoying the great outdoors and supporting our state's hunting heritage is part of being a Texan.
As we're sure you'll agree, hunting is more than just a sport; it's a way of passing on the values of patience, perseverance, and respect for nature.
TPWF, our nonprofit funding partner, works to help ensure there will always be wild things and wild places in Texas for future generations to enjoy.
That's why we're inviting you to consider joining TPWF as a member today.
And, if you become a member by November 15, you will automatically be entered in a TPWF drawing to win a special edition branded YETI cooler.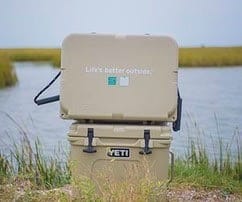 As a member, you'll receive exclusive benefits like insider information, invitations to special events and other members-only perks.
And, you'll be supporting TPWF's work to conserve our state's wild things and wild places, now and in the future.
Help keep Texas wild for everyone – join TPWF today.
About the Texas State Rifle Association:
Founded in 1919, the Texas State Rifle Association is the largest firearms and shooting sports organization in Texas with nearly 40,000 members. TSRA is also the largest, award-winning state affiliate of the National Rifle Association and is sanctioned by the Civilian Marksmanship Program. As a part of its public education efforts, the association produces a full-color bimonthly publication, TSRA Sportsman, which updates members on current news, hunter education programs, shooting sports competitions, and important issues effecting their Second Amendment rights. The TSRA also hosts an annual meeting every February that features exciting fund-raising auctions, informative speakers, exhibitors, and other events.
For membership or other information about the Texas State Rifle Association, visit www.TSRA.com or call 512.615.4200.