U.S.A. –-(Ammoland.com)- Fall is synonymous with whitetail deer hunting in the South. Our wives become "deer widows" for 2-3 months while we disappear into the woods and look for that giant buck we've been watching for. Wives get used to seeing their husbands up late at night looking a pictures from trail cams and learn to cook venison. Saturday mornings are viewed from 20 feet up in a tree stand. Good times and priceless moments.
The Hunter's Friend was initiated by a suggestion from Al Davis, owner of AllFab Solutions. He is an avid hunter and wanted a way to hang his bow or rifle from a tree without having to run a screw into the tree and damage the tree. A few weeks later, the Hunter's Friend was born.
Getting your gear to the field and into the tree stand means work. Gear that you take up to the tree must be compact, lightweight and easy to deploy. Setting up your gear while you are hanging from a tree and 20 feet up means it must be well designed and flawlessly task at hand. Anything else is just something that will get left at home.
The Hunter's Friend holds your bow (or rifle) in the ready position. Holding your bow, or rifle, in your lap can be tiring after a few hours. The Hunter's Friend solves that problem while keeping your bow at the ready position. I also use it to hold my calls, binoculars and range finder. It straps around the tree without damage so you keep the landowner happy.
I believe that we have 3 in stock so don't delay in ordering yours, or suggest it as a gift. Check out the pictures below from a recent hunt in Chatham County, NC.
Enjoy those priceless moments!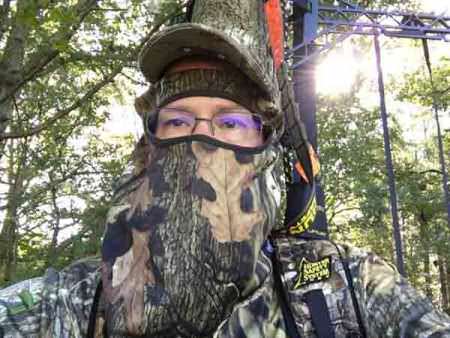 Heirloom Quality
Many products in today's world are meant to have a limited lifetime. A good example is that cell phone that you need to replace every two years. It works great, but over time technology changes and the fragile electronics have a limited lifetime. We want to design and sell products that have a very long lifetime and may actually get passed along to your kids or grandchildren. Many rifles get passed along from parent to children, sometimes marking a rite of passage. Granted a shooting rest isn't as special as your Grandfather's rifle. However, we work to design and sell products that are simple, elegant and high enough quality that you will want to pass them along to your kids or grandchildren.
Troublesome Gap Tough
Troublesome Gap is a place in Western North Carolina, near the peak of Hap Mountains and overlooking Spring Creek, NC. My parents purchased the property over 40 years ago. I grew up spending time there. We cut firewood for heat, picked blackberries and raspberries, and spent some great weekends up there. Troublesome Gap is remote and rugged, the perfect place to test our products. Troublesome Gap Tough means that the products are rugged and easy-to-use. A delicate, hard-to-use product is a liability in the field, so we avoid that by making sure all our products provide a great customer experience and are built to last, even in demanding conditions.
As President of Montie Design, I am proud the fact that we are shipping high-quality, U.S. made products. I am also proud to be an American.
About Montie Gear
Montie Gear is a part of Montie Design. Montie Design is a NC-based design firm that provides product design and development services to a variety of industries. We also happen to enjoy spending time outdoors and the shooting sports. Montie Gear is the product of our love for great design and our love for the great outdoors. Our goal is to provide easy-to-use, superior-quality outdoor and shooting gear, manufactured in the U.S.A. whenever possible. We test many of our products at Troublesome Gap in Western North Carolina. Our motto is "Heirloom Quality, Troublesome Gap Tough."
For more information, visit www.montiegear.com.