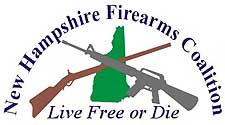 New Hampshire –-(Ammoland.com)- We have been hearing from a few gun owners who were confused by the grade we gave to anti-gun, soon to be former US Senator Kelly Ayotte, I have decided to send everyone an email explanation.
NHFC does not grade candidates based upon who their opponent is or whether or not we or the pollsters think a particular candidate is able to win an election. We issue our grades based solely on a candidates track record on Second Amendment issues while in office. In the case of candidates who have not held elective office we grade based upon their answers to a comprehensive candidate questionnaire as well as any other available information. For example, support of another anti-gun candidate will earn a down grade.
Sadly, in the post Newtown clamor for new gun control, Kelly Ayotte refused to support filibusters that were begun to stop the anti-gun bills. In addition, she voted to confirm anti-gun Loretta Lynch as US Attorney General. And more recently she voted for cloture on the Feinstein semi-auto gun ban bill. Thus, allowing this dangerous anti-gun bill to move to the Senate floor for consideration by the full Senate. Ayotte said all she wanted was a debate. However, her vote risked passage of a new semi-auto firearm and magazine ban. Also, back in 2014, during a hotly Republican primary she took sides and endorsed anti-gun carpetbagger Scott Brown for US Senate. Following the 2014 election of new State Representatives, Kelly Ayotte meddled in the race for Speaker of the New Hampshire House of Representatives. We were left with a less than 100% pro-gun speaker.
Kelly has earned her D.
Click here to read her 2010 survey responses. Most of which turned out to be lies.
Some people have called us some very not nice names for grading Aaron Day A*S. Mr. Day was an independent candidate for US Senate and he returned a 100% pro-gun survey. We have an obligation to tell firearms owners the truth. Some are blaming Mr. Day for Ayotte's loss, they told us: "you should know Day couldn't win". We don't know that. Any candidate has an opportunity to win any election. Just 2 years ago little known David Brat beat the US House Majority Leader. As I explained above, we don't grade based upon pollsters opinions or anyone elses perception of a candidates chances of winning. We grade based on a person's support or non-support of the Second Amendment. Period.
Some have blamed NHFC for Ayotte's loss. Ayotte has only herself and her bad behavior to blame for her loss. We just reported the truth to tens of thousands of New Hampshire Firearms owners. If Kelly Ayotte had kept her promises she would have received a better grade and may have even won the election.
NHFC will never waver from our commitment to holding public officials accountable for their actions by informing and educating New Hampshire firearms owners. If these public officials and their supporters do not like this then they should implore people like Kelly Ayotte to unconditionally support the Second Amendment. If Ayotte had unconditionally supported the Second Amendment she probably would have been reelected.
Thanks for your support.
About New Hampshire Firearms Coalition:
The New Hampshire Firearms Coalition is New Hampshire's only No Compromise Gun Rights Organization. While many so-called "gun rights groups" work to curry favor with politicians and the media, NHFC is working aggressively to hold politicians accountable and to put a stop to gun control. Visit: www.nhfc-ontarget.org